NEWS
Courtney: Bon Jovi Gives Cobain a Bad Name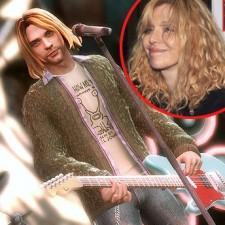 In Guitar Hero 5, the latest in the popular musical video game series, players have the option of not only playing a Nirvana song as the band's late leader Kurt Cobain, but they can also have the anti-icon singing tunes from any of the other bands available on the game, something Kurt's widow Courtney Love claims she didn't know when she cashed in by signing over his likeness to Activision.
"Activision is exploiting Kurt's image in a manner anathema to the very essence of his music, spirit and essence," Love's lawyer told TMZ. "I along with Ms. Cobain hope those who love Kurt's music strongly voice their sentiments to Activision and demand his image not be debased by singing the songs of Bon Jovi."
Article continues below advertisement
Meanwhile, Activision defended itself to gaming site Kotaku.com: "Guitar Hero secured the necessary licensing rights from the Cobain estate in a written agreement signed by Courtney Love to use Kurt Cobain's likeness as a fully playable character in Guitar Hero 5."