NEWS
Courtney Love Talks Frances Bean; Elton's Advice for Lindsay Lohan; Sharon Stone Praises 50 Cent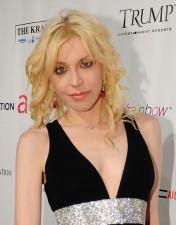 Courtney Love is hatching a plan when she stops by the Elton John AIDS Foundation annual benefit, An Enduring Vision, held Monday at NYC's Cipriani Wall Street.
"I hope he plays on my record tomorrow," the friendly, open musician/actress, 45, says. "I'm working him. I have no idea if he's gonna do it, but he said he might."
The Hole rocker and widow of Nirvana's Kurt Cobain attributes the groundedness of 17-year-old daughter Frances Bean to "DNA."
Article continues below advertisement
Courtney says, "She's really conservative in a good way. She's going to college. She's looking at colleges. She's in her last year of school. She wants to go to an Ivy League school where she'll study fine art, maybe film."
What are her thoughts on plastic surgery?
"Well, my schnoz is back, but I wouldn't do anything else again," she says.
Any regrets about tattoos?
"A really drunk night inspired one, and I'm going to need to get it fixed," she says. "I had it faded, but I want something there that means something other than a bad, drunk night in New Orleans. It's an angel. I got it in the nineties."
Here comes Elton John, with David Furnish. The Rocket Man, 62, is feeling "very well" after a bout with E. coli that left him hospitalized earlier this month.
"I hate canceling shows," he says. "I hate letting the fans down, but I'm back and raring to go. It was something I've never had before, which is a serious E. coli infection, which I got from something I ate. I had to have intravenous antibiotics, and they had to watch me for nine days. Now that I'm out and about, I'm good."
Article continues below advertisement
Hm, did he get it from David's cooking?
"No," he says. "David doesn't cook."
What advice would he give stars like Lindsay Lohan or others battling drug and alcohol demons?
"The best thing to do is go to the best treatment center, which is Hazelden in Minnesota, and get your act together," Elton says.
Anderson Cooper, Gina Gershon, Sandra Lee and Gossip Girl's Matthew Settle strut through. Of his role starring opposite Hugh Jackman in Broadway's A Steady Rain, Daniel Craig yuks, "It's a comedy now."
Here's Sharon Stone, whose mouth is moving awkwardly either from the cold weather or a "freshening up" procedure.
Why is she passionate about this charity?
"Because we have to be in order for it to work," the actress, 51, says. "We all have to be. It's not a passion that I keep as an individual; it's a passion that I share."
She calls her Streets of Blood co-star 50 Cent by his given name, Curtis.
"He's a very bright, feet-on-the-ground, centered person," Sharon says. "Curtis is a wonderful guy, and a real professional."
What lucky lady could she recommend to date Curtis aka 50?
"That's not my job," she laughs.
The Elton John AIDS Foundation raises $2 million during An Enduring Vision.