NEWS
COVER STORY: Angelina Jolie Can't Take It — Brad Pitt's Mystery Woman!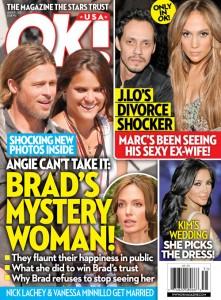 Now, after six years, maybe Angelina Jolie knows how Jennifer Aniston felt. The Oscar-winning actress is going nuclear over Brad Pitt's flirtatious relationship — documented in photographs — with a young, brunette female assistant on the Malta set of his new zombie thriller, World War Z. And while unsubstantiated rumors still swirl over an impending Jolie-Pitt wedding, insiders say Angie's jealous rages are beginning to push Brad away.
Article continues below advertisement
OK! GALLERY: ANGELINA JOLIE'S GIGGLE-FILLED GIRLS DAY OUT IN HOLLYWOOD
"Brad resents that Angelina is trying to control him," a source tells OK!. "He told Angelina outright, 'I've always had women friends, I'm always going to have women friends. End of story.' "
But will it be the end of the World's Most Glamorous Couple? Incomprehensible as it may seem to the millions who envy Angelina as an icon of supremely confident — even arrogant — sensuality (oh, and she gets to go home to Brad), the world-saving serial mom has some serious insecurity issues. And it's driving Brad to distraction.
OK! GALLERY: ANGELINA JOLIE TOUCHES DOWN IN L.A. WITH LITTLE LADIES ZAHARA & SHILOH JOLIE-PITT
"Of course, there's a part of him — even though he would never admit it — that likes it," the insider reveals. "Angelina is usually this cool, unaffected, kind of untouchable woman, and when she shows some jealousy, it lets him know she has a weak spot — and that, obviously, she's crazy about him."
When Angelina told Brad to stay away from the assistant, and when she kept harping on it, he was like, 'Enough is enough.' At the end of the day, he's a 47-year-old man and he only has so much patience for petty drama. He wants their relationship to be more evolved and sophisticated than that. Brad doesn't want to be living inside a reality show."
Article continues below advertisement
OK! GALLERY: MADDOX & PAX JOLIE-PITT SPLASH AROUND IN THE MEDITERRANEAN SEA
Reality stars like Snooki and The Situation may not have anything to worry about — yet. But according to maintain longtime friendships with his female colleagues — as well as some of his exes. Years before he ever met Jennifer or Angelina, for example, Brad platonically bonded with indie-film darling Catherine Keener (his co-star in the 1991 film Johnny Suede).
"They used to be very close, but Angie didn't like that, so he and Catherine drifted apart," the insider reveals.
OK! GALLERY: BRAD PITT SPENDS FATHER'S DAY ON 'WORLD WAR Z' SET
"It's the same thing with onetime fiancée Gwyneth Paltrow," adds the insider. "Brad just let that friendship go because of Angelina's disapproval. But he's not going to do that anymore. It's affecting the way Brad likes to be as a person, and that's just not cool with him now."
FOR MORE ON ANGIE & BRAD'S ROUGH WATERS, PICK UP THE NEW ISSUE OF OK! — ON SALE EVERYWHERE NOW!