NEWS
COVER STORY: Brad Womack & Emily Maynard — It's Over!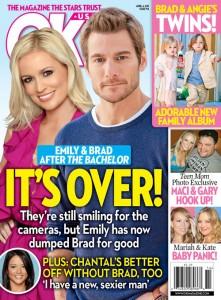 To the world, The Bachelor's Brad Womack and Emily Maynard appear to be a couple in love, trying to navigate the waters of a budding relationship. Emily was even spotted wearing the engagement ring that was conspicuously missing from her finger on an emotional After the Final Rose special. But this romantic version of Brad and Emily is all for the cameras. In this week's all-new issue of OK!, we've got the scoop and all the inside details!
Article continues below advertisement
OK! EXCLUSIVE: BRAD WOMACK HAS COLD FEET!
The two are pretending they're together for the sake of The Bachelor brand; in real life, a staffer from the show has revealed exclusively to OK! that Emily has broken up with Brad — for good.
"There have been so many breakups and make ups — mostly over the phone or Skype," a source close to Brad tells OK!. "Finally, Emily told him she can't do this anymore and ended it.
Article continues below advertisement
Pregnancy Panic: Ready to burst, Mariah Carey can't wait for her twins to come into the world. The singer's opting for a C-section, based on her doctor's recommendation. Actress Kate Hudson is pregnant for the second time and due soon as well, but she's had terrible nausea well into her second trimester. Find out what the expecting stars' significant others have done to support them during their pregnancies.
Spring Brides: Upcoming nuptials are stressing out actress Reese Witherspoon, reality star Kourtney Kardashian and future princess Kate Middleton. OK! has all the wedding-planning details — including who custom-designed Reese's gown. Plus: OK! readers voted on which celebrity wedding they'd most like to attend.
OK! GALLERY: REESE WITHERSPOON HITS UP THE SPA FOR PRE-WEDDING PREPARATIONS
Natalee Holloway: After admitting to killing business student Stephany Flores in Peru, the top suspect in the Natalee Holloway case, Joran van der Sloot is now being held in a Peruvian prison and plans to plead temporary insanity. As he killed Flores after finding her looking at his laptop, officials have turned in a copy of his hard drive to the FBI, which could prove beneficial to the Natalee Holloway case. Plus: Learn more about Stephany Flores' final hours, and what the Holloway family is doing to assist other families of missing persons.
OK! Style Week: In OK!'s Spring Beauty Blowout, TV stars Heather Hemmens and Amber Lancaster demonstrate how to wear the season's bright makeup trends, styling experts talk about the haircut that's hottest now, celebs tell OK! whose beauty look they love, and much more.
Plus: Teen Mom's Maci Bookout had a surprise run-in with co-star Gary Shirley at Mardi Gras in New Orleans; OK! has exclusive photos of Kendra Wilkinson-Baskett and her fellow Dancing With the Stars contestants showing off their moves; Experts debate who's to blame when naked photos of celebrities, like Vanessa Hudgens, get leaked on the Internet; OK!'s guide to Twilight stars Kristen Stewart and Rob Pattinson's favorite hangouts in Vancouver, British Columbia (where they're filming Breaking Dawn); E! News host Giuliana Rancic dishes on the white-hot dress trend in Hollywood; Celebrity nutritionist Keri Glassman weighs in on Jersey Shore star Ronnie Magro's daily diet; Learn how stars like Penélope Cruz can lose 30 pounds of pregnancy weight in only one month; and read about what OK! can't stop talking about this week — the crisis in Japan and Sandra Bullock's generous $1 million donation. Visit redcross.org to donate to the relief efforts.