NEWS
Cover Story: Eric Dane's Fight Against Cancer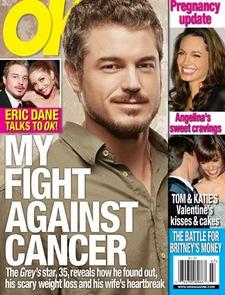 For actor Eric Dane, the first sign that something was wrong came right after the new year, when the Grey's Anatomy star glanced in the mirror and saw what looked like chapped lips but clearly wasn't.
"I went to my dermatologist," Eric reveals in an exclusive interview in the new issue of OK!. But the last thing the 35-year-old expected was to be diagnosed with skin cancer. "He said it was malignant tissue caused by sun damage."
Article continues below advertisement
The malignancy was treated by freezing the cancerous tissue off with liquid nitrogen. Unfortunately for Eric, the actor had a severe reaction to a cream given to him for his lip after the treatment . "My skin is very sensitive," the actor most famous for playing Dr. Mark "McSteamy" Sloan, explains to OK!, "and my lip was traumatized by the procedure I had to go through."
His lip's overreaction to the medication created a painful scenario that made eating difficult, if not impossible. "I didn't eat very well for a couple of weeks and lost a bunch of weight," Eric explains, estimating that he dropped at least 10 pounds off his 6'1" frame while dealing with his cancer.
"Skin cancer is the most common form of cancer in the United States," Dr. Micki Ly, a Maui, Hawaii-based dermatologist, explains to OK!. "More than a million cases are diagnosed annually." But Eric was extremely wise to act quickly in dealing with it, she says. "The mouth is a bad area for a malignancy because they spread faster in mucosal areas, of which the mouth is one."
For the complete interview with Eric — including how this cancer scare impacted his relationship with wife, actress Rebecca Gayheart — pick up the new issue of OK!, on sale everywhere Thursday.
By Mary Ann Norbom & Jon Warech