NEWS
COVER STORY: Finally, a Baby for Jennifer Aniston!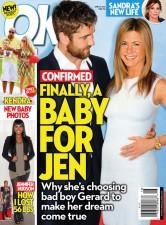 Through five cities, in five countries, over three weeks, Jennifer Aniston and Gerard Butler have been on a whirlwind tour promoting The Bounty Hunter. Fans in every city have been amazed by Jen's gorgeous looks and stunning style, but it wasn't until Jen and Gerard's March 30 stop in Madrid that fans started buzzing about something else: the gleam in Jen's eye, her easy, confident glow and her hand resting on her not-so-flat tummy. Do all signs, at last, point to pregnancy?
Article continues below advertisement
"Jen very much wants to have a baby girl," a source close to the star tells OK!. "She had a heart-to-heart with friends and relatives and admitted this is the year she's going to become a mom."
So who's on deck to play dad?
"Jen adores Gerry and thinks he'd make a perfect father," an insider tells OK!.
FOR MORE ON JEN'S BABY PLANS AND HOW GERARD IS INVOLVED, PICK UP THE NEW ISSUE OF OK! — ON SALE EVERYWHERE THURSDAY!
ALSO IN OK!:
• Miley Cyrus: After meeting on the set of her film The Last Song, 17-year-old Miley is head over heels for her co-star and boyfriend Liam Hemsworth. Learn what Miley sees for their future and if marriage will be in their plans.
• Kate Gosselin: The mom of eight had vowed to put family first, so many were surprised when she was announced as a member of this season's Dancing With the Stars cast. Learn how she's splitting her time with her kids and her quest for the DWTS trophy. Also, how ex Jon Gosselin is pitching in with the kids.
• Sandra Bullock: Her husband Jesse James may have apologized over and over, but that hasn't stopped Sandra from moving on with her life. Find out what Sandra plans to do next and what part Jesse's kids play in her future.
Plus:
Jennifer Hudson is the new spokesperson for Weight Watchers; Kendra Wilkinson Baskett takes her two Hanks for some family time on Easter Sunday; Rihanna and J.Lo have become style BFFs; Get the style secrets from the pros on this year's American Idol makeovers; Pick different nail colors for your mood with Contributing Beauty Editor Kim Kardashian; Lasting impressions with American Idol host Ryan Seacrest.