NEWS
Cover Story: At Home With Britney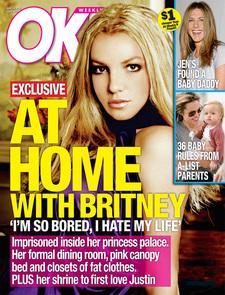 For the last six weeks, Britney Spears has essentially been grounded by her daddy, Jamie Spears, in a desperate measure to save her life. Of course, there are worse places to be holed up than her $7.2 million, 7,400-square-foot Mediterranean-style villa in Studio City.
As part of her dad's restrictions, the 26-year-old is no longer allowed to hit the night clubs in L.A., hang out with her paparazzi pals or make frequent, erratic stops at gas stations, fast-food joints and public bathrooms. A friend of the the singer tells OK! that Brit recently snuck a text message to them saying, "I'm so bored. I hate my life."
Article continues below advertisement
Now, a typical day with Britney includes spending hours alone in her bedroom, which a frequent visitor to the home tells OK! is "like a princess' room with several walk-in closets and a spa tub, plus a long counter where she used to keep all her wigs."
Jamie, who stays in a room downstairs, leaves his daughter alone when she's in her private suite. And since she's no longer allowed to go out, the pop star now spends hours in front of the mirror trying on different outfits.
"Changing clothes all day long must seem harmless enough, so her dad doesn't interfere with that," a friend of Britney explains to OK!. "She'll change three or four times on days when she's not leaving the house."
Some of those clothes include "fat clothes" that Britney likes to wear when she's feeling bloated or out of shape. Friends say the singer keeps a secret closet stocked with these loose-fitting garments for just these occasions.
Article continues below advertisement
One thing visitors to Britney's home are surprised to discover is that the seemingly scatterbrained star keeps a clean house. "Her life may seem out of control, but the inside of her house is very ordered," a friend of the singer tells OK!. "She's very clean and has no clutter."
An even bigger surprise inside the house — a shrine to ex boyfriend, Justin Timberlake!
Sources tell OK! that few people have seen Brit's collection of private mementos from her years with the pop superstar. "She's obsessed with him," the source reveals. "She has pictures of them together and has devoted a private area just to celebrate him."
For the full scoop on Britney's life at home, pick up the new issue of OK! — on sale everywhere Thursday!