NEWS
COVER STORY: Jen Aniston — A Baby on My Own!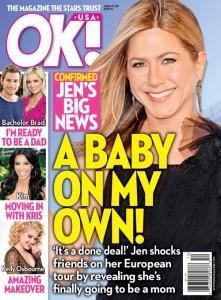 Jennifer Aniston spent two years at her renovated $13.5 million Beverly Hills estate only to wake up one morning to realize that the Zen-influenced wide-open floor plan of her home was not family-friendly. "It's no place to raise a baby," she confided in a friend, when she put the expansive 10,000-square-foot property on the market for $42 million on Feb. 18. The actress, 42, is so concentrated on her future as a mom that she's willing to make enormous sacrifices, like selling the house she loved so much, we report in the new issue of OK!, on sale everywhere Thursday.
Article continues below advertisement
"She felt the Beverly Hills home was too sprawling and unmanageable for a new mom," explains another confidante. "She's renovating her old Hollywood Hills home, where she lived when she met Brad Pitt, because she thinks it's a smaller and a better-laid-out home for a baby. She's keeping a baby in mind as she's looking for a place in New York, too."
FOR MORE ON JEN'S PATH TO MOTHERHOOD, PICK UP THE NEW ISSUE OF OK! — ON SALE EVERYWHERE THURSDAY!
Kim Kardashian: Her love life has had some very public ups and downs, but now Kim Kardashian is ready to make a big move for her man. As her new relationship with New Jersey-based boyfriend Kris Humphries heats up, will Kim make NYC her permanent home? Check out all the things she'd be leaving behind in California.
Article continues below advertisement
OK! GALLERY: KIM KARDASHIAN GLAMS UP WITH A MANI IN BEVERLY HILLS
The Bachelor Update: With single mom Emily Maynard the favorite to win this season of The Bachelor, Brad Womack may get a kid, too! Along with spending time with Emily, Brad has also been getting to know her daughter, Ricki! Will Emily's child have an impact on Brad's decision as to who he gives the final rose to? And who could be the next Bachelorette?
CLICK HERE FOR ALL OF OK!'S BACHELOR PICS & NEWS!
Kelly Osbourne: In an exclusive interview, Kelly Osbourne tells OK! she used to hate herself. Now, after dropping 50 pounds, she loves her new look and lifestyle. Plus, take a look back at Kelly's wild life and how she has changed... for the better.
Plus:
Is Jenelle letting fame get to her head at the expense of her time with her son, Jace?; Charlie's eldest daughter finally speaks out about what's been going on with her dad; Should there be social networking for young kids? Views on both sides weigh in. Do you agree?; OK! visits the home of former Bachelorette Jillian Harris as she talks about moving on with her life; The daily diet of 90210 star Shenae Grimes; What does our nutritionist think she should change to be healthier?; As the new season of The Celebrity Apprentice gets going, this might be the craziest season yet. From Gary Busey to Star Jones, who do you think will go nuts first?