NEWS
COVER STORY: Jennifer Aniston - The Photos That Show She's Pregnant?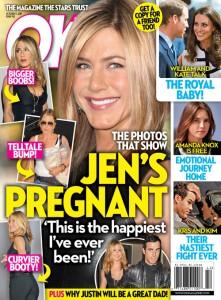 As fall begins chilling the New York City air, freshly minted Manhattanite Jennifer Aniston has swapped her tank tops for jackets, scarves and peacoats as she walks hand in hand — while smiling ear to ear — with beau Justin Theroux along the winding streets of their West Village neighborhood. But outerwear can't cover up an obvious change in her svelte physique — a curvier, more buxom shape — and the suggestion of a bulge around the belly. And so tongues are wagging: Is Jen pregnant at 42? OK! has the scoop in this week's new issue, on sale everywhere Thursday!
Article continues below advertisement
"She hasn't announced it, but all of her friends seem to think it's finally happened," an insider tells OK!. "Whenever anyone hints around the question, Jen gets really giggly and shy. It certainly has all of her friends buzzing, and Jen seems to be loving it!"
If Jen is with child, it wouldn't be surprising. As one close pal notes, she and Justin share a desire to start a family "immediately."
OK! GALLERY: JENNIFER ANISTON ULTIMATE GALLERY — FROM "THE RACHEL" & BRAD PITT TO JUSTIN THEROUX'S CHICK
FOR MORE OF OK!'S TELL-TALE SIGNS OF JEN'S BABY ON THE WAY, PICK UP THIS WEEK'S ISSUE OF OK!, ON SALE EVERYWHERE THURSDAY!
ALSO IN THE NEW OK!:
• Kim Kardashian and Kris Humphries: Their biggest fight ever. From financial problems to family tension, many issues plague the newlyweds.
• William and Kate: Prince William and Kate talk a royal baby. The Duke and Duchess of Cambridge are deeply in love and ready to start a family
• Demi Moore and Ashton Kutcher torn apart: The day before his sixth wedding anniversary, Ashton is caught cheating — again!
• The Real Housewives of New Jersey: Scandal for Teresa Giudice — her husband, Joe, is spotted out to dinner with another woman.
• Jessica Simpson: The singer's dreams of a baby are finally coming true, but she seems to be working so very hard to hide it!
• Plus: They're hot, they're rich, but they just can't seem to commit. OK! counts down Hollywood's top 10 heartbreakers, like Bradley Cooper and John Mayer; Longtime couples like Matthew McConaughey and Camila Alves are keeping their love alive without the wedding; Kimora Lee Simmons dishes to OK! exclusively about her life and her latest fashionable venture, JustFabulous; Sandra Lee —get an exclusive sneak peek of the Food Network host's favorite costumes from her Halloween TV special.