NEWS
COVER STORY: Jen's Stealing Brad Back!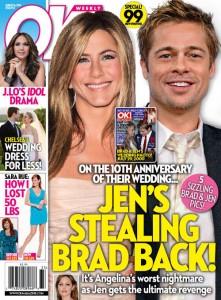 On what would have been her 10th wedding anniversary with Brad Pitt, Jennifer Aniston, gorgeous and glowing in a little black dress, bantered with Jay Leno before millions of Tonight Show viewers. "It was an emotional day for her," a source tells OK! about the July 29 anniversary. "She put on a brave front."
And a sexy one: At 41, Jen looks better than ever — and it's no accident. Insiders say Jennifer is looking to get even closer to Brad with late-night phone calls, gifts and private meetings.
Article continues below advertisement
IT'S ANGELINA'S WORST NIGHTMARE! FIND OUT HOW JEN IS PLANNING ON STEALING BRAD BACK — ONLY IN THE NEW ISSUE OF OK!, ON SALE EVERYWHERE THURSDAY!
PLUS!
American Idol: Can Jennifer Lopez save American Idol? As rumors swirl about her making her Idol debut, J.Lo is already shaking things up behind the scenes.
Sara Rue: How the actress lost 50 pounds! Slim in time to plan her wedding, Jenny Craig's spokesperson dishes on her diet secrets.
Also: Katie Holmes builds a fashion empire; Meet the Real Housewives of DC - these ladies know how to mix power and style!; Kendra Wilkinson-Baskett's chic new look; How Angelina Jolie got fit to kick butt: The tough workouts and surprising diet that whipped her into secret-agent shape; Jersey Shore's The Situation shares his daily diet in What I Ate Today, while JWoww has the Last Word.