NEWS
Cover Story: Jessica's Revenge Diet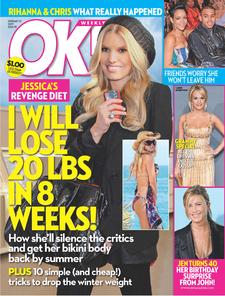 These days, Jessica Simpson has got to be stressing out. First an unflattering picture of her onstage caused a whirlwind of buzz about her somewhat fuller figure, and then the country singer struggled during her 38-minute set opening for Rascal Flatts on Feb. 5, forgetting lyrics and appearing nervous.
But whatever happened to her that night, Jessica's got a plan to bounce back, with the help of boyfriend Tony Romo. The NFL quarterback was on hand to support Jessica the following night in Champaign, Ill., — and she dedicated her song, "You're My Sunday," to her love.
Article continues below advertisement
"There's somebody special here I love very much," Jessica told the crowd. "I can just relax with him. He's my Sunday; he's my every day."
There's a reason she can relax with Tony, despite her insecurities. During the hubbub over Jessica's figure, Tony has been unstintingly supportive of his diminutive sweetheart.
"She's gone up a size in jeans, and Tony could care less," a friend tells OK!. "He isn't interested in some idiot Hollywood bimbo with an eating disorder."
After Jess makes it through the stress of the tour, which ends March 14, friends say the extra weight will disappear too.
"She eats her feelings — it's hard having people criticizing your every move and ridiculing you on blogs," one close friend tells OK!. "Once Jessica stops touring next month, she'll calm her nerves and the weight will hopefully fall off."
In addition, Jess will need to cut back on her favorite finger foods like chips and guacamole and make a few substitutions, as well as falling back into a fitness routine.
"She'd much rather gossip with her girlfriends than hit the treadmill, so I know she needs to get a workout buddy to run with her," her friend reveals.
Now who might that be? Says the friend, "Tony would do it in a heartbeat!"
For more on Jessica's plan to get back into fighting shape, pick up the new issue of OK! — on sale everywhere Thursday!