NEWS
Cover Story: Justice — Osama bin Laden Destroyed!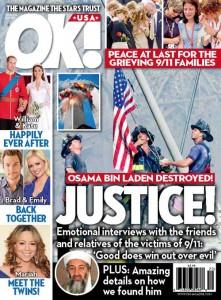 Few Americans will ever forget where they were on the morning of Sept. 11, 2001, when evil appeared out of a cloudless sky and changed our lives forever. And just as surely, millions will long remember the night of May 1, 2011, when President Barack Obama broke into Sunday evening TV programming and told the world that Osama bin Laden — mastermind of the Sept. 11 terrorist attacks that slaughtered nearly 3,000 innocent souls at New York City's World Trade Center; the Pentagon in Washington, D.C.; and in a field in Shanksville, Pa. — was dead.
Article continues below advertisement
The gaunt, bearded face of modern terror met his end not in some remote mountain cave but in a compound in suburban Abbottabad, Pakistan. In the early hours of May 1, Navy SEALs and CIA paramilitary forces under direct orders from President Obama ended a decade-long manhunt — and, with a bullet through the al-Qaeda leader's left eye, avenged the worst mass murder ever perpetrated on U.S. soil, which shattered countless lives, launched two ongoing wars and traumatized a nation.
In the new Iisue of OK! — on stands everywhere — we reveal more of the amazing details of Osama's demise at the hand of U.S. forces and emotional interviews with the friends and relatives of the 9/11 victims.
ALSO IN THE NEW ISSUE OF OK!:
Osama bin Laden: With the death of Osama bin Laden, the U.S. closes the book on the world's most wanted terrorist. How a team of Navy SEALs invaded the terrorist's million-dollar home and ended his cruel reign. Plus: America rejoices! How the country came together to applaud the long-awaited news.
Article continues below advertisement
Royal Wedding: OK! brings you every magical moment as Prince William marries Catherine Middleton at Westminster Abbey. From her gorgeous dress, to the celebrity guests to the most memorable moments, OK! has all the scoop on the royal couple's big day!
Mariah Carey: The twins are here! The pop diva welcomes a son and a daughter with hubby Nick Cannon, and OK! has all the details.
The Bachelor: Brad Womack and Emily Maynard reunited… but for how long? The stars of The Bachelor met for a quiet weekend in Texas to try to work out their differences.
OK! NEWS: THE BACHELOR'S BRAD & EMILY — IT'S OVER!
Melissa Rycroft: Body after baby! The star of The Bachelor opens up to OK! on what she did to get within 5 pounds of her pre-pregnancy weight.
Summer Dresses: Dress lovers, rejoice! This spring, when it comes to hemlines, anything goes! From mini to maxi and knee-length to tea-length, OK! features the best trends for summer.
Article continues below advertisement
• Nutritionist Keri Glassman weighs in on the daily diet of E! Fashion Police co-host Kelly Osbourne.
• Go behind the velvet rope and see inside the hottest parties of the week!