NEWS
COVER STORY: Kendra's Sex Tape Scandal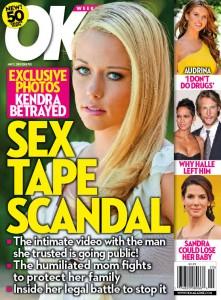 Lately, Kendra Wilkinson Baskett has been the perfect picture of a carefree new wife and blissful young mom. But OK! has learned exclusively that the reality TV star and former Playboy Playmate's wild past has come back to haunt her.A salacious sex tape has surfaced, and Kendra, 24, is desperately waging a legal battle to keep it from going public. Only in this week's OK!
Article continues below advertisement
PLUS: • OK! has all the legal documents involved in Kendra's attempt to quash the sale of the sex tape. • Exclusive pics of Kendra, Hank and their baby Hank at home. • The details of Kendra's plan to defend her life with her family.
AND MORE! ALSO IN THE NEW ISSUE OF OK! — ON SALE EVERYWHERE THURSDAY:
• Audrina Patridge: Audrina speaks out to OK! on rumors that The Hills ruined her life — plus Heidi's surgeries, Spencer's attacks and her body image
• Sandra Bullock: How the actress' divorce could put her adoption in jeopardy
• Fashion: Which City look works for you? 3 fashion personalities + 1 stylish show = inspiration for everybody!
Plus: Britney Spears wants to go back to school — on Glee!;
Jessica Simpson, Mariah Carey and Beyoncé prove that curves have made a comeback; Dancing With the Stars makeovers: The show has totally transformed Pamela Anderson, Kate Gosselin and Cheryl Burke; How to live like Demi Moore; Healthy advice from Bethenny Frankel; OK!'s summer movie preview: The 10 hottest blockbusters coming to theaters near you.