NEWS
COVER STORY: Khloe Kardashian Odom and Kate Hudson — Pregnant & Betrayed!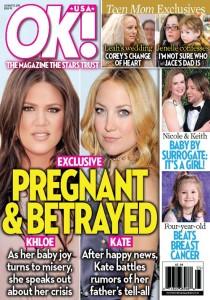 It should be the best time of her life — but expectant mom Khloé Kardashian Odom is battling those who've turned against her. After a long struggle, 26-year-old Khloé is now pregnant with her first child, due in July. Khloé's life seems the very definition of "having it all." So why is the star so upset? In this week's issue of OK!, we take a look at Khloé's current crisis.
OK! NEWS: KHLOE KARDASHIAN "SO NOT HAPPY" ABOUT GOING BACK TO BRUNETTE
Article continues below advertisement
ALSO IN THIS WEEK'S OK! — KATE HUDSON BATTLES RUMORS!
Nine months ago, Kate Hudson met British guitarist Matthew Bellamy, frontman for the rock group Muse, at California's Coachella Music Festival. Now, after a whirlwind romance, Kate is three months pregnant with Matt's child — his first and her second (she has son Ryder, 7, with ex-husband Chris Robinson). And while the pregnancy was unplanned, the couple is thrilled.
OK! VIDEO: KATE HUDSON IS A LITTLE BIT OF HEAVEN IN NEW TRAILER
For Kate, however, the joy is tempered with pain: Rumors are flying around Hollywood that her long-estranged biological father, Bill Hudson, is shopping a tell-all about his marriage to Kate's mother, Goldie Hawn — one that paints their family life in a negative light.
Kate hasn't commented, but "obviously, she is mortified," a source close to the actress tells OK!.
Article continues below advertisement
FOR MORE ON KHLOE & KATE, PICK UP THE NEW ISSUE OF OK! — ON SALE EVERYWHERE THURSDAY!
PLUS!
Sandra Bullock and Ryan Reynolds: Sandra's having second thoughts. OK! reveals why her and Ryan's chance at a future is falling apart.
OK! GALLERY: SANDRA BULLOCK PUTS GLOBES BEHIND HER, HEADS HOME TO LOUIS!
Pregnancy Update: Bumps galore! A record crop of star tots are on the way for famous moms like Natalie Portman, Penélope Cruz and Victoria Beckham.
Real Life: She was just two when her mom found a lump on her chest. Now, two years later, Aleisha Hunter is the world's youngest known breast cancer survivor
Plus:
The best looks from the Golden Globes and the scoop on the post-show celebrations; Glee's Jenna Ushkowitz shows OK! how to dress for winter — and shares gossip from the show; Chill out in style and enjoy an adrenaline-fueled adventure in Jackson Hole, Wyoming's A-list winter wonderland; Celebrity nutritionist Keri Glassman weighs in on Katrina Bowden's diet.