NEWS
COVER STORY: Kourtney Kardashian & Jennifer Aniston — Holiday Weddings!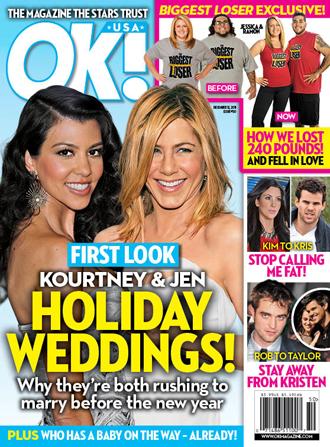 Kourtney Kardashian and Jennifer Aniston are busier than usual this holiday season — both are planning their long-awaited weddings to Scott Disick and Justin Theroux. OK! has all the scoop on why they're both rushing to marry before the new year.
OK! NEWS: KOURTNEY & KIM TAKE NEW YORK PREMIERE EARNS BIG RATINGS
On the heels of the sad, spectacularly public breakup of Kim Kardashian's marriage comes some happy news for the first family of reality TV, and it comes in the form of another wedding: After four often turbulent years and one heart-stoppingly cute child (2-year-old son Mason) Kourtney and reformed bad-boy beau Scott hope to marry this holiday season: "It will probably be late this year," an insider tells OK!.
Article continues below advertisement
The pair has famously survived some ups and downs, of course — recently, rumors that Scott dallied with Kristin Cavallari surfaced. But the seas have calmed.
"I think everybody probably sees marraige in their future," Scott tells OK!. "I love Kourtney more than anything in the world. We've come a long way. I finally have come to the place in my life where I realize what's important."
OK! NEWS: BEN STILLER SAYS JENNIFER ANISTON & JUSTIN THEROUX "SEEM TO BE REALLY HAPPY TOGETHER"
And don't be surprised if Jen's a barefoot bride before the clock strikes 2012!
Jen has weathered more than her share of romantic disappointments after her devastating 2005 divorce from Brad Pitt — from Vince Vaughn to John Mayer to fleeting flings with Gerard Butler and Bradley Cooper. But friends of the actress agree that Justin is a keeper, the real deal. As the pair settles into their new penthouse in NYC's Greenwich Village, you can tell by the gleam in Jen's eye, the uncharacteristic PDA and Justin's unfailing tenderness.
Article continues below advertisement
And soon, according to sources, the couple will head south of the border to elope.
FOR MORE ON KOURTNEY & JEN'S HOLIDAY WEDDING PLANS, PICK UP THE NEW ISSUE OF OK! — IN STORES THURSDAY!
ALSO IN THE NEW ISSUE:
• Jessica Simpson is preparing for motherhood and seeking advice from other stylish mommies!
• OK! caught up with the Biggest Loser's biggest winners, Jessica Limpert and Ramon Medeiros, who fell in love while losing weight on the show.
• Demi Moore is upset by soon-to-be ex-husband Ashton Kutcher's noncholance regarding their breakup.
• Ali Fedotowsky is back on the market! The bachelorette called it quits with Roberto Martinez.
• OK! reveals how celebs like Johnny Depp and Amy Adams paid their dues before hitting it big.
• Dancing With the Stars might have even more weight loss winners than mirror ball trophy winners! OK! looks at who kept off the pounds after their time and dancing ended and who struggled.