NEWS
COVER STORY: Leah Messer's Shock — Another 'Teen Mom' Baby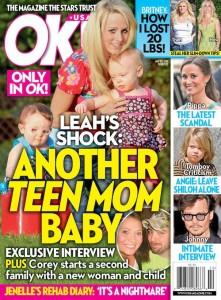 In this week's all new issue of OK!, the latest Teen Mom drama unfolds. Leah Messer arrived home to the new rental she shares with a girlfriend to find a flood of messages from her concerned pals. The big news?
Her estranged husband, Corey Simms, has a new girlfriend, Amber Scaggs — and it's so serious that he's ready to become a father to her 11-month-old daughter.
"Leah's friends were all talking about this Amber girl and asking Leah if she knew her," says a Leah insider. "Her friends say that Corey was cheating with Amber all along."
Article continues below advertisement
OK! NEWS: TEEN MOM'S JENELLE EVANS IN REHAB!
However, Corey's relationship with Amber, 21, is only a few weeks old, according to another friend, noting that they hadn't even met before Leah filed to end her six-month marriage on April 14. "I'm the last person who would ever break up a family," Amber tells OK! exclusively. "You can't break something that is already broken. Leah filed for divorce from Corey. That's clearly saying, 'I don't want to be with you.' "
Still, the news that Corey is dating someone seriously upset Leah, who never dreamed that Corey would be so quick to replace her in his heart. It was unfathomable to Leah that Corey would step in and become a father to anyone else's children.
FOR MORE ON LEAH, COREY & AMBER, & MORE TEEN MOM, CHECK OUT THE NEW ISSUE OF OK! — ON SALE EVERYWHERE THURSDAY!
ALSO IN THE NEW ISSUE OF OK!:
Britney Spears: With a hot new album and a killer tour to come this summer, Britney Spears is doing better than ever and she even has a smoking body to go along with it. Find out how Britney lost 20 pounds and see what she is doing to keep it up as she preps for her summer of live concerts.
Article continues below advertisement
Oprah Winfrey: The time has come for Oprah Winfrey to say goodbye. After 25 years of ups and downs, OK! looks back at some of the best moments from The Oprah Winfrey Show. And check out some of big stars that owe their success to Oprah!
Johnny Depp: Pirates of the Caribbean star Johnny Depp talks to OK! about his love Vanessa Paradis, their two kids Lily Rose and Jack, and whether he ever thought that this Pirates franchise would be so successful. Plus, enjoy some of Captain Jack Sparrow's funniest quotes ever!
Plus:
After Chaz Bono offered to talk to Brad Pitt and Angelina Jolie about Shiloh, Angie has come out in defense of her young daughter; From Harry Potter to The Smurfs to The Green Lantern, check out all the big movies that will make you flock to the theaters this summer; As Jaycee Dugard's captors face sentencing, the 31-year-old prepares to tell the world all about her torment; Nutritionist Keri Glassman weighs in on the daily diet of reality star Paris Hilton; Country sweethearts Blake Shelton and Miranda Lambert finally got hitched amidst a crowd of many stars like Kelly Clarkson, Reba McEntire and Katherine Heigl; Stars from Sarah Jessica Parker to Owen Wilson to Vanessa Hudgens flock to France to celebrate movies at the Cannes International Film Festival.