NEWS
COVER STORY: Maci Bookout's Dream Wedding!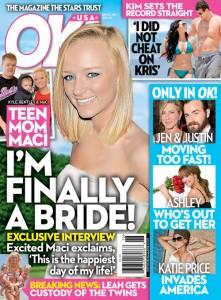 On an upcoming episode of Teen Mom, Maci Bookout, the 19-year-old Southern belle from Tennessee and mom to Bentley, 2, will finally get her "happily ever after" moment when she weds her beau, Kyle King.
"Maci says that although she's still really young and doesn't know what she wants to do with the rest of her life, she knows for sure that she loves Kyle," says a friend of the reality-TV star in this week's all new issue of OK!. "She loves being around him and he makes her very happy."
Article continues below advertisement
OK! NEWS: TEEN MOM MACI BOOKOUT IS GOING TO BE A BRIDE
But Maci's wedding dreams are much more down-to-earth and achievable today. Instead of spending her life's savings on a lavish affair, she expects that her wedding to Kyle, 23, will be a simple, fun and family-oriented celebration of love.
FOR ALL THE DETAILS AND MORE ON TEEN MOM, PICK UP THE NEW ISSUE OF OK! — ON SALE EVERYWHERE THURSDAY!
ALSO IN THE NEW OK!:
Article continues below advertisement
Kim Kardashian: Brett Lockett said that he had an affair with Kim Kardashian but then admitted that he has never met Kim. Find out how, alongside her supportive fiancé Kris Humphries, the happily engaged star is fighting back in her own words. Also, was Brett in it just for the fame?
The Bachelorette: Even before the season began, The Bachelorette's Ashley Hebert was stabbed in the back by someone she trusted and it wasn't one of the guys. Who was it that alerted that Bentley's family about her before he even went on the show? Was it one of Ashley's Bachelor frenemies: Michelle Money or Emily Maynard?
Daphne Barak: Renowned interviewer Daphne Barak gets scoops from all the world! From Italian mayor dishing about the Jersey Shore filming in Florence to Aaron Carter opening up about his friendship with Michael Jackson to whether Prince Harry will ever marry Chelsy Davy.
Katie Price: Look out Jessica Simpson and Kim Kardashian, one of The UK's most famous celebs, Katie Price is bringing her million-dollar empire to America. Read about how Katie plans to explore all different parts of the U.S. and if she plans to do a TV show here.
Plus:
Friends fear that Jennifer Aniston's whirlwind romance with Justin Theroux is a ticket to more heartbreak. Is he good enough for America's sweetheart?; The Big Debate: Is sexting cheating? Plus-sized models: the future or just a fad? Experts weigh in with their opinions; The search continues for missing Indiana University student Lauren Spierer. What really happened the night that she disappeared?; Duchess Kate's sister, Pippa Middleton, is single again! Will she finally hook up with Prince William's brother, Prince Harry?