NEWS
Cover Story: Matilda's Life Without Daddy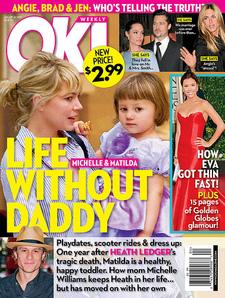 The morning of Dec. 21, Michelle Williams, 28, and her 3-year-old daughter Matilda Rose, left their moss-green Brooklyn row house for the pink-toned Dashing Diva nail salon. Exuberantly, Matilda raced ahead of her mom, bounding through the snow that cloaked their Boerum Hill neighborhood. The pair enjoyed matching mani-pedis in time for the holidays.
"Matilda's a really upbeat kid who giggles all the time," Michelle's long-time friend tells OK!. "That's the one thing Michelle says will make her smile no matter what — hearing her daughter laugh."
Article continues below advertisement
But nearly one year ago on Jan. 22, there were only tears, as police carried the lifeless body of Heath Ledger, William's former fiance and Matilda's daddy, from a SoHo loft. The actor, 28, was the victim of an accidental overdose from prescription medications.
Heath delighted in his daughter Matilda, who inherited her father's penetrating gaze and dark eyes, and whose name he had tattooed on his stomach.
"Matilda never really understood what happened when he died," a friend tells OK!. "It was heartbreaking when she asked for daddy and Michelle had to explain that he wasn't coming back."
Now, one year later, Michelle is still trying to find happiness for herself and Matilda. She is steadily working and has begun a quiet romance with film director Spike Jonze.
"Things are getting easier, little by little, day by day," her friends tell OK!. "Slowly she's come back from the shock and heartbreak."
For the entire story, pick up the new issue of OK! — on newsstands everywhere Thursday.