NEWS
Cover Story: The Obama Express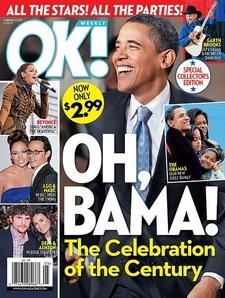 Some came from miles away, others from mere city blocks--a sea of humanity 400,000 strong that filled the National Mall, bundled against the bitter chill but warmed by history and hope.
They were there for We Are One: The Obama Inaugural Celebration at the Lincoln Memorial on Jan. 18. It was a uniquely American event suited to our particular moment in history with its engaging blend of patriotism and pop culture.
Article continues below advertisement
From Bruce Springsteen, to Beyonce, to U2, celebrities performed on the steps of the Lincoln Memorial. Watching below from the front row, President Barack Obama's daughter, Malia, excitedly snapped pictures of the performers.
But the star wattage couldn't outshine the 47-year-old man of honor, America's first African-American Commander-in-Chief, as he stood before the marble statue of his hero, warning of the challenges ahead, but proclaiming himself "hopeful as ever" that America will prevail.
For OK!'s special 8-page spread of President Barack Obama's Inauguration, pick up the new issue--on newsstands everywhere on Thursdaay!