NEWS
Cover Story: Paula & Kara's Idol War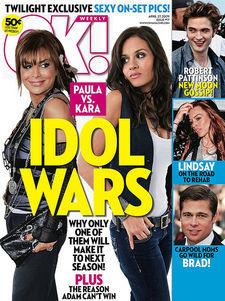 It's not just the contestants fighting to stay alive each week on American Idol. Both Paula Abdul and Kara DioGuardi are in danger of losing their spots alongside Simon Cowell and Randy Jackson at the overcrowded judges' table next season, and the tension among the panelists has become unbearable.
"The plan to add a fourth person backfired," an Idol insider tells OK! about the troubles that have been mounting since Kara joined the cast at the beginning of this season. "Now the producers are left with a tough decision: Do they go back to the original three-judge format, or leave Kara there?"
Article continues below advertisement
With all four judges in contract negotiation — and no ninth-season spots confirmed — the competition has turned fierce. "As long as the show brings in millions of viewers, everyone wants a piece of it," says a pal of the former pop star. "Paula wants to remain on the program for as long as Simon is involved, and Kara's trying to stay on for as much time as possible. She wants Paula to get the ax."
The increasing turmoil marks a shift from the camaraderie once enjoyed by the female judges, who had been pals for a decade.
"Kara was bold enough to come tap me on the shoulder," Paula has said of their initial meeting on an NYC sidewalk. After a few weeks of knowing the aspiring songwriter, Paula invited her to L.A. "I moved a complete stranger into my home and we were the best roommates," Paula has said. "I took her all around, and she has become one of the most successful songwriters."
But Paula shocked everyone when she told OK! in January, "Kara and I get along great and have known each other for years, but we tried four judges before when we had celebrity guest judges sitting in, and it just doesn't work." Kara hit back in a statement: "Paula has a right to her opinions, but I was disappointed by her comments and hurt that she did not address them to me in person."
Soon, things turned from what Randy, 52, dubbed "man versus woman" to a girl-on-girl brawl!
For the complete story, pick up the new issue of OK! — on newsstands everywhere Thursday!