NEWS
COVER STORY: Sandra Bullock — A Baby at 47!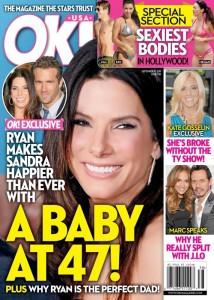 Sandra Bullock never intended to become a single parent. For years, friends say, she tried in vain to conceive with her biker mogul ex-husband, Jesse James. Finally, the couple initiated the adoption of her now-19-month-old son, Louis — and then everything went horribly wrong. But now, everything seems to be going right, as OK! reveals in the new issue, on sale everywhere Thursday!
During her finest hour — winning the Oscar for The Blind Side in 2009 — Sandra saw her marriage explode over Jesse's infidelity, leaving her to raise Louis alone.
Article continues below advertisement
"At first she was devastated, of course," a pal tells OK!. "But once the adoption went through, she was over the moon. She's never been happier than she has been since Louis entered her life."
And now Sandra's life is getting exponentially better. As her decade-long friendship with onetime co-star (in The Proposal) Ryan Reynolds ripens into a full-blown romance, the actress may be on the verge of realizing another dream.
FOR MORE ON SANDRA AND RYAN, PICK UP THE NEW ISSUE OF OK! — ON SALE EVERYWHERE THURSDAY!
ALSO IN THIS WEEK'S OK!:
Body & Soul: Hollywood's Sweexiest bodies! For curvilicious celebrities like Rihanna and Gisele Bundchen, sexy is simple a way of life.
Jennifer Lopez and Marc Anthony: In a TV interview, Marc says, "I'll always love Jennifer." He denies infidelity and calls his ex-wife "a wonderful woman."
Article continues below advertisement
Hollywood's Most Pampered Kids: Designer clothes, private planes, expensive parties and fantasy jobs — these Tinseltown kids. Like Suri Cruise and Kingtson and Zuma Rossdale, want for nothing.
Kate Gosselin: She's broke without the show. With Kate Plus 8 canceled, high-living Kate Gosselin faces some harsh realities.
Hot Story: Brad Pitt and Angelina Jolie bond with Angie's father, Jon Voight, who visited with his family in London.
Countdown: OK! counts down the top 10 life-saving stars. The incredible true stories of how celebs like Brad Pitt and Kate Winslet have saved people.
Style Week Emmys Preview: Check out the trends to look for at the Emmys, like strapless necklines, stacked bangles and short hemlines. Plus: How the Glee girls, like Dianna Agron and Lea Michele get red-carpet ready.
Real Life: 9/11: They remain heroes. New York City's fire commissioner and a firefighter's mother turn tragedy into hope.