NEWS
COVER STORY: Sherri Shepherd's Weight-Loss Secrets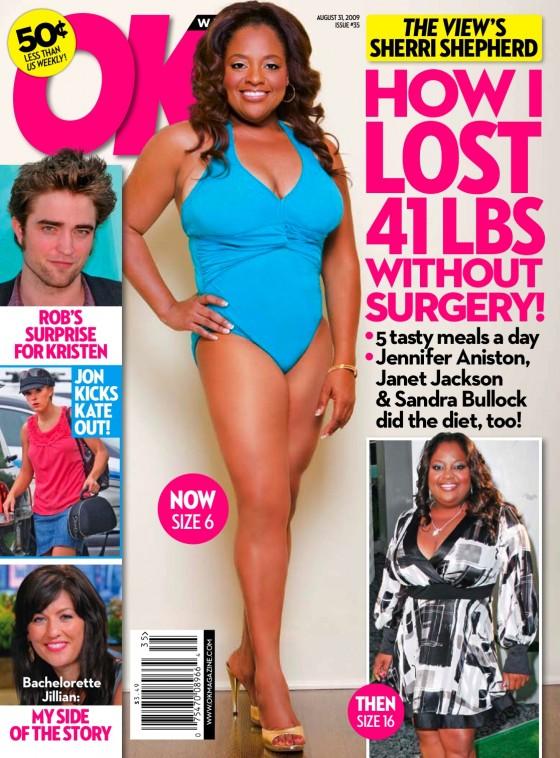 Sherri Shepherd's transformation almost didn't happen: After losing a whopping 30 pounds since her 2007 debut on The View, she began to see the weight creep back on. Rather than surrender, she made a public vow in May to get herself swimsuit-ready.
"This is my marathon," Sherri, 42, says — and it looks as if she's winning the race. The talk show co-host and star of Lifetime's upcoming sitcom, Sherri, has lost 41 pounds in total, dropped 10 dress sizes and cut 10 inches off her 5'1" frame. And in a new, exclusive interview and photo shoot with OK!, Sherri reveals what inspired her to go public with her pledge — and exactly how she did it.
Article continues below advertisement
"I lost weight last year and started gaining it back because I wasn't exercising," Sherri explains in the new issue of OK!. "I said to my producer, 'Why don't we do something where I tell people 'Let's do it together!' and maybe up the ante with a bathing suit.' The minute I said that, I was like, 'Gosh, I should take it back because I really want M&M's!' But I had to do it. Then all of sudden I had all these people doing it with me. I'd Tweet about going to the gym and how hard it was, and followers would write and say, 'Sherri, I've lost two pounds!' I thought, 'Okay, people are getting into this.'"
To help get her into swimsuit shape, Sherri enlisted the help of trainer Don Scott — who she refers to in her Tweets as the "Evil One" — and he spared certainly didn't give her any slack because of her celebrity. "What I hate is when trainers say, 'Okay, lets do 15,' and then you get to 15, and they go '10 more,' She recalls about her time in the gym. "It has taken every mental thing I have to get to 15, so don't put another 10 on me!"
Article continues below advertisement
Now Sherri's focus is on maintaining her weight, without the trainer. "It's just mandatory that I find something I like that I can really keep up," she explains. "I just started this trapeze class that strengthens the arms, and tennis I love. I'm taking salsa lessons."
In addition to her time in the gym, Sherri — who openly admits that she's "not a cooker" — slimmed down with the help of delivered meals from Fresh Diet, including Turkey & Green Salsa Quesadillas, Pan-Seared Sea Scallops with Ginger Jerk Sauce, Salad Niçoise and Cinnamon Pear Cheesecake. "It's freshly cooked and they delivered it in the mornings so I would just eat that," Sherri explains.
But even with all this great food, there were still times when desire's seductive head would pop up. "Sometimes I just said, 'I don't want tilapia anymore; I can't even deal with salad. I want M&M's and Ruffles,'" she confesses. "But the difference was I was gonna get back up and go to the gym and keep my commitment. I never once felt like I deprived myself."
For the entire interview, check out the new issue of OK! — on sale everywhere Thursday!