NEWS
COVER STORY: Snooki — "My Battle With Anorexia"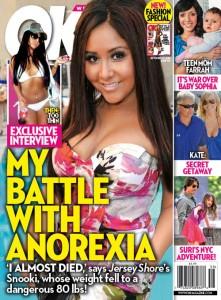 Jersey Shore's Nicole "Snooki" Polizzi is an icon for the reality-show era — famous for being her bronzed, brawling, poufed, profane, fist-pumping 4-foot-9-inch self. She's also lucky to be alive. Just a few years ago, the 22-year-old was a painfully insecure Poughkeepsie, N.Y., teenager suffering from two potentially deadly eating disorders: anorexia and bulimia.
Article continues below advertisement
OK! caught up with Snooki at L.A.'s The London hotel, where she was in town for the MTV Video Music Awards. There, she shared her struggle and how she finally learned to have a positive self-image.
FOR OK!'S EXCLUSIVE INTERVIEW WITH SNOOKI AND HER BATTLE AGAINST EATING DISORDERS, PICK UP THE NEW ISSUE OF OK! — ON SALE EVERYWHERE THURSDAY!
PLUS!
Teen Mom Exclusive: It's war over baby Sophia! Since her late boyfriend Derek Underwood's tragic car wreck (which led to his death, two months before Sophia's birth), MTV's Teen Mom Farrah Abraham has not allowed his side of the family to see her daughter — unless, that is, they agree to appear on camera for the Teen Mom project. Read Derek's mother's response to this, along with how Sophia's young aunt (a teen mom herself) feels about her portrayal on TV.
MTV Video Music Awards: OK!'s wrap-up of the trendy awards show, including photos of Lady Gaga's many startling ensembles, Justin Bieber getting some affection from Rihanna and Katy Perry and snapshots of the Glee and Jersey Shore casts. Plus: Extra's Terri Seymour's backstage interviews with award winners and presenters.
OK!'s Fashion Special: Hollywood insiders like Tommy Hilfiger, Steve Madden, Betsey Johnson and more reveal what's on their "it" lists for fall. Celebrity stylist Lloyd Boston shares tips for wearing the season's top 10 trends. 30 Rock star Katrina Bowden models the top three must-have ensembles. And the winner of So You Think You Can Dance, Lauren Froderman, gets a beauty makeover. Plus, the stars rocked NYC's Mercedes-Benz Fashion Week, and OK! was there for all the action!
Plus: The VMAs' most-talked-about moments; Suri Cruise's fun day in Central Park; Oprah Winfrey's final season kicks off; True Blood's huge cliffhanger; E! News host Giuliana Rancic reviews VMA style winners; Celebrity nutritionist Keri Glassman weighs in on actress Melissa Joan Hart's daily diet; OK! previews the premieres of fall's hottest new shows; The hottest party pics, including shots from OK!'s fifth-anniversary party in L.A.; And Katy Perry and Rihanna's competition to get in shape.