NEWS
COVER STORY: Teen Mom In Crisis — "I'm Broke"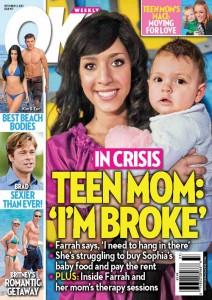 For Farrah Abraham, motherhood has brought tragedy and financial strife. Working as a waitress and begging friends to babysit her 1-year-old daughter, Sophia, the 19-year-old Teen Mom was struggling. With only $100 to her name to cover rent and food for herself and baby Sophia, Farrah was at the end of her rope.
With rent due in 15 days, Farrah didn't know where the money would come from.
Article continues below advertisement
"I don't speak to my mom," she said. "My dad has no money. It's pretty much a 'Farrah's on her own; hang in there' type of deal. It kinda sucks."
But she's fighting to provide a good life for her baby and the other Teen Moms are too!
OK! GALLERY: 'EVENT TO PREVENT' BRINGS BRISTOL PALIN TO THE BIG APPLE
ALSO IN THE NEW ISSUE OF OK!:
Britney Spears: Britney and Jason Trawick's romantic getaway! Showing plenty of love — and skin — the couple heats up Hawaii.
OK!'s Fifth Anniversary: Over the past five years, the hottest celebrities have welcomed OK! readers into their lives, hearts and homes, celebrating weddings and new additions to their families and revealing their happiest personal moments. See our favorite covers and exclusive from the last five years!
Miracle Moms: Celebrities like Christina Applegate and Kelly Preston have over come hardship to make their baby dreams come true.
Emmys: The best red-carpet looks and beauty secrets from this year's Emmys. Plus, OK!'s got the post-ceremony parties covered!
Plus: See stars like Zac Efron and Marisa Miller as OK! picks the summer's best beach bodies; Steal Eva Mendes' sexy dress and get the perfect look for every event; A clean-shaven Brad Pitt hits New Orleans; OK! previews the newest shows coming to prime-time TV this fall.