NEWS
COVER STORY: Teen Mom Maci — "I'll Fight for My Baby"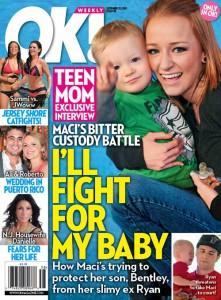 Sitting in a restaurant with a group of friends, 21-year-old Ryan Edwards was getting more worked up by the minute, as his buddies asked the young dad why he couldn't spend more time with his son, Bentley, 22 months. It was, according to Ryan, because the toddler's mother, Teen Mom star Maci Bookout, had said no.
"I think I'm going to take her to court over it," Ryan announced on the Sept. 7 episode of the MTV reality series. "She's really screwing me. She does it because she wants to make me upset." "I just want Bentley to be happy," Maci has said of her son. "I'll do whatever it takes to make that happen."
Article continues below advertisement
When Maci first had Bentley with former fiance? Ryan, he hardly seemed interested in being a father. But now that Maci has ditched Ryan and fallen in love with childhood pal Kyle King, 22 — plus managed to juggle work, college and being a great mom to her son, while America watches — suddenly Ryan wants to be more hands-on with Bentley.
OK! EXCLUSIVE: FARRAH'S "WORKING ON" RELATIONSHIP WITH HER MOM
"Ryan's threatening Maci with court to prove a point," a source tells OK!. "Not because he's desperate to have Bentley fulltime. He's doing it to hurt her."
FOR MORE ON MACI'S BATTLE TO KEEP HER BABY, PICK UP THE NEW ISSUE OF OK! — ON SALE EVERYWHERE NOW!