NEWS
COVER STORY: Teen Mom's Leah Messer — Dumped by Corey Simms!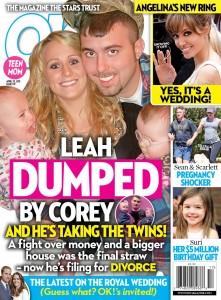 As with any reality-TV show, the drama doesn't end just because the cameras stop rolling. In the case of Teen Mom 2's Leah Messer and Corey Simms — parents of 16-month-old twins Aleeah and Aliannah — the plot has only thickened since October, when they sealed their season finale with an outdoor wedding and a kiss. After fighting constantly, the pair have finally separated — perhaps for good. We reveal the scoop in the new issue of OK! — on sale everywhere Thursday!
Article continues below advertisement
FOR MORE TEEN MOM, PICK UP THE NEW ISSUE OF OK! — ON SALE EVERYWHERE THURSDAY!
ALSO IN THE NEW OK!:
Scarlett Johansson: After a whirlwind romance, Scarlett and Sean Penn might be getting ready to start a family!
Suri Cruise: Suri turns 5! Tom Cruise and Katie Holmes celebrate their little girl's fifth birthday with sweet treats, flowers, celebrity friends, girly decorations and millions of dollars in cash!
Article continues below advertisement
Angelina Jolie: Finally, a ring! Her new bling — and tattoo — suggest she and Brad Pitt have secretly tied the knot.
Rob Pattinson and Kristen Stewart: Rob's ready to put a ring on it! The Twilight star wants to prove he's serious when it comes to his commitment — and he's about to give Kristen a token of his love.
Jaycee Dugard: Her kidnapper's shocking not guilty plea means Jaycee will be forced to go to court and face the man accused of holding her captive for 18 years.
Sexiest Singles: The 50 hottest eligible bachelor and bachelorettes in Hollywood, from Audrina Patridge to Zac Efron!
Royals: Prince William's family speaks out. Plus: OK! scopes out the top choices for the honeymoon destination.