NEWS
Cristian's Next TV Gig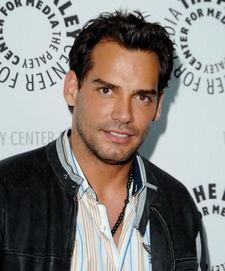 This summer, Dancing With the Stars Cristian de la Fuente will be quick-stepping onto the new USA series In Plain Sight, which follows the undercover life of Molly Shannon, a U.S. Marshal working for the Witness Protection Program, who is played by Mary McCormack.
Cristian plays Rafael Ramirez, Molly's on- and off-again boyfriend who has a few smooth moves of his own, something Mary didn't mind pointing out. "Aren't they beautiful hips," she joked about the hunky ballroom dancer-in-training during the USA Upfront Party held last night at Modern Restaurant in midtown Manhattan.
Article continues below advertisement
Cristian's salsa skills were a big surprise to another one of his In Plain Sight co-stars, Desperate Housewives alum Leslie Ann Warren. "My mom told me, and I couldn't believe it," Leslie declared over his participation on the celeb dance series. "But it makes perfect sense because he's so gorgeous and sexy and very much has the spirit of dance in his body." And how does Leslie expect Cristian to fare in the ballroom competition? "I think he'll do good," she said.
In Plain Sight premieres June 8 at 10 p.m. on USA Network.