NEWS
The Critics Choice Awards Winners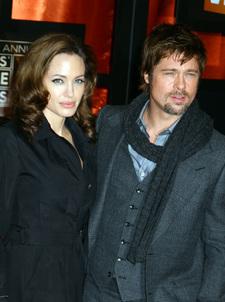 Brad and Angelina may not have won any awards at last night's Critics Choice Awards, but we're going to go ahead and name them hottest couple of the night.
Meanwhile there were real awards handed out at the ceremony held in LA. A big winner of the night was the Coen brothers crime drama No Country for Old Men. It won for Best Directing, Best Supporting Actor, Javier Bardem, and the biggie — Best Movie.
Article continues below advertisement
Other wins include There Will Be Blood, which won for best soundtrack thanks to Radiohead's Johnny Greenwood and Daniel Day Lewis won for best actor. Hairspray was also a double-header, winning for Best Ensemble and Best Young Actress.
Meanwhile, most people thought Juno (though it left the night with two awards, Best Comedy and Best and Writer, it came up short) and Into the Wild would hit it up big when in fact they came up cold. Other snubs included: Michael Clayton, Sweeney Todd and Atonement.
It's believed that the Critics Choice Awards are a good barometer for the Oscars, if they should happen!