NEWS
Cruising With Carson Kressley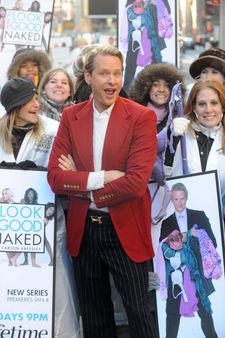 Carson Kressley and I go way back. A bevy of photogs snapped me sitting beside him during a fashion show in 2004, and I see him out all the time. Why, of course, I would cover an event for his new show How To Look Good Naked, which premieres on Lifetime tonight.
Even if it's outside in Times Square on the coldest day of the year.
After hundreds of women clad in white satin bathrobes descend upon the Square, Carson breaks out the megaphone to rally for the cause. "You don't have to be a size zero to be beautiful," he says, before jumping into the waiting black SUV. Brrrr!
Article continues below advertisement
Luckily, Carson hooks it up. The heat is a dream-come-true when I hop inside. He playfully tosses a purple bra-on-a-stick at me.
"This is from last night," he yuks, as we roll off on an adventure.
The 37-year-old reality star confesses that 100% of the Naked ladies were hesitant to strip down.
"The show was this amazing journey where we hear the stories of these women," he tells me. "It's not just 'I don't like my size' but it's 'I hate my size so much that my life is ruined.' It's severe body loathing and body dysmorphia and being obsessed with things you can't change and they're not the end of the world. We had this amazing journey during the show where we get past that and we learn to live with that and we learn to dress the woman for her body type. We learn to nourish the body with spa treatments and that 'you deserve good things. You deserve to be pampered.'"
"By the end of the journey, they're feeling pretty great about themselves and their self-perception has improved, but when you drop the bomb and say 'let's pose nude,' there's oftentimes hesitation."
"What happens is that these women have gone through such a journey where they decide they're not going to hate themselves anymore that it's kind of like a coming-out process where they're just like 'I'm going to shed all my layers, I'm going to show the world who I am, I'm proud of who I am now, and if they don't like it – too bad.' It's that final nail in the coffin. 'This is who I am – love me or leave me.' People go through the experience and they do the nude photo shoot, and they're amazed. They're like 'this is the most liberating thing I've ever done.'"
But would Carson go there?
"I would, but probably lots of people would be afraid of that," he laughs.