NEWS
The Curse of the Vanessas?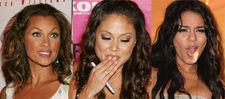 There is a disturbing, albeit interesting, trend plaguing Hollywood. No, it's not stars spending time in the slammer or checking into rehab. It's the Curse of the Vanessas.
High School Musical songstress that the nude photo making the rounds on the Internet is, in fact, her in all her birthday-suit glory. Shocking at first, yes, but ultimately not surprising when you realize that the name "Vanessa" and "nudity" go hand-in-hand with each other.
Article continues below advertisement
It all dates back to . The beauty queen became the first black woman to win the Miss America crown in September 1983 but was forced to relinquish the revered post 10 months later after some nude pictures of her surfaced in Penthouse. Even though the private shots (aren't they always?) were taken prior to her successful campaign, it was deemed that the now 44-year-old was, well, tarnishing the wholesome good name of Miss America. Plus, she wasn't alone in them either — the snaps featured some girl-on-girl action with another model.
It wasn't a same-sex pairing in 's case though. Another beauty pageant veteran, the 1998 Miss Teen USA let it all hang out while vacationing in Mexico in May 2007 to celebrate her one-year anniversary with . Censored photos floated around for a bit before the real deal ones leaked in August. Of the incident, Vanessa, 26, told OK! "It was upsetting to see her privacy being violated." As a woman, my body is my temple, it's mine. So it was embarrassing. But we did nothing wrong."
Article continues below advertisement
No, there's nothing wrong with getting naked with your boyfriend, or taking naked photos for your boyfriend, which is reportedly what the latest Vanessa was doing. The scandalous shot was meant for 's eyes only, and the 18-year-old said in a statement, it's "unfortunate that this has become public."
Very unfortunate since Vanessa isn't just any young star — she's a young Disney star. How will this affect her relations with the media giant and the cash cow that is High School Musical? Is her gig in jeopardy?
That remains to be seen, but looking at history, she has some luck on her side. Despite the scandal and her Miss America resignation, Vanessa W. made a tremendous rebound and hasn't had too shabby of a career. Next week, the Tony- and Grammy-nominated double threat could take home an Emmy for Ugly Betty.
So all hope isn't lost — maybe Vanessa M. will find herself a new job too.
But for the time being, what have we learned? Always keep an eye out for Vanessas. Where is , by the way?