NEWS
The CW renews its TV slate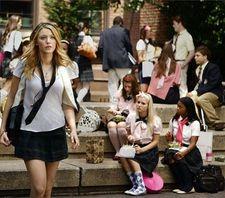 Time to do a couch potato dance.
The CW has just announced which shows will be back come next season, and the TV Fanatic can't stop smiling.
Along with my ultimate guilty pleasure show, Gossip Girl; 90210, Smallville, Supernatural and yes, One Tree Hill, have been renewed. Looks like going five years into the future does a series good.
Would be Cover Girls will be working the catwalk again as America's Next Top Model is renewed for another million cycles.
Article continues below advertisement
Speaking of ANTM, I've always watched in awe -- and envy -- as those 5'8-plus glamazons work the runway. But not anymore.
The series has announced its first casting call for would-be models 5'7" and under as the show preps for its first petite ANTM competition.
"There have been top supermodels in the past that weren't as tall as the industry demands, like fashion icon Kate Moss," ANTM executive producer and host Tyra Banks said via statement. "So we are changing up Top Model for cycle 13 and making it a year for the shorter model!"
Casting calls commence Feb. 28 in Miami, Fla.
Finally girls under 67 inches can get schooled by Ms. Tyra herself! Holla, my fellow shorties!