NEWS
Cynthia Nixon on 'Too Big to Fail': "I Think That HBO Was Very Smart"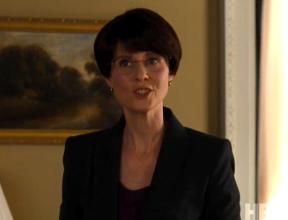 HBO's new movie, Too Big to Fail, premiered last night about the 2008 financial crisis as an adaptation of Andrew Ross Sorkin's book. In the film, Cynthia Nixon stars as Michele Davis, head of Hank Paulson's PR and one of the few females inside the crisis. Even though she played a lawyer on Sex and the City, this new role was particularly challenging for Cynthia to play.
OK! NEWS: CYNTHIA NIXON & CHRISTINE MARINONI WELCOME SON; KEPT PREGNANCY SECRET!
Article continues below advertisement
"I'm so not a financial person. I had to reread the script four times before even accepting the job," Cynthia explained to New York Magazine. "I just couldn't follow it. Partly because these players were new to me and on a page, it's like, 'Which one is Dick Fuld and which one is Geithner?' "
"But I think that HBO was very smart," she said. "When you have so many recognizable faces, so many actors people know, in some ways, it makes it easier to follow. It's like, "Oh, Billy Crudup is worried because Paul Giamatti … " I feel like when all that was going on, it was really scary, but I had a limited understanding of it. And reading the script and making the film and watching the film all put together helps me understand a lot better what it is that really happened, and how close we came to the precipice, which I don't think I truly understood at the time."
To prepare for the role, Cynthia did a lot of reading and even met Michele.
"I read pieces of the book. I researched Michele Davis on the web and I read interviews with her and I watched what little footage there was to see of her," Cynthia explained. "And then I got to have lunch with her and ask her a lot of questions."
OK! GALLERY: WALL STREET 2 PREMIERE — THE STARS NEVER SLEEP
And Cynthia could sympathize with Michele once she realized how she was one of very few females involved.
MORE ON:
president barack obama
Article continues below advertisement
"It is interesting, and Michele Davis did talk to me about how oftentimes she was the only woman in the room, and also how she was the only one who came from public service, from the political world. Almost everybody was a man who came from private industry, and very high up in private industry," Cynthia explained. "And she said the note that she most often sounded was, "We can't just fire off a memo, we can't just dictate, we can't just explain what's happening to Congress, or the American people or the president or anybody — we have to bring them along. We have to keep them informed so we don't just shock them when we move from A to Q. We need to bring them along, and we have to — in a more female way, perhaps — reach some kind of consensus. We can't just shoot orders."
"Female way" Cynthia explains to mean "making sure that everybody is on the same page" and she believes President Barack Obama knows how to do that.
"I am a fan of the president, and I think people were a little anxious for him to move a little quicker, but he has a lot on his plate and he may be moving slower than we'd like, but he's certainly moving in the right direction and taking really important, big steps."
Watch the Too Big to Fail trailer, below!