NEWS
Cynthia Nixon Wants to Marry Her Girlfriend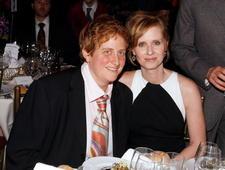 Cynthia Nixon would like to marry her longtime girlfriend, Christine Marinoni.
The Sex and the City star says she would definitely walk down the aisle with her girlfriend of four years if same-sex marriages are recognized in the U.S.
"If it becomes legal, I think we would," Cynthia tells The Mirror. "It's something my girlfriend is interested in and it was not something my boyfriend ever was. I think that to get married to her would be a little act of rebellion. It's like if you've never had the vote and then you get it you're going to run out there and vote."
Article continues below advertisement
Always "very wary" of marriage, the 42-year-old admits she consciously avoided exchanging vows with Danny Mozes, her boyfriend of 15 years and father of her children, Samantha, 11, and Charles, 5, because "I felt like it was potentially a trap."
"People sometimes want the party, the gifts and the public celebration of this big love - they're excited about that rather than about the lifetime commitment," Cynthia says. "So I always steered clear of it."
But now Christine has changed her outlook on the institution – among other things. When news of their relationship broke, many eyebrows were raised at the actress' sudden change in sexual orientation, but Cynthia doesn't see it that way. She was merely a woman who fell in love with another woman, she says.
"I never felt like there was an unconscious part of me that woke up or came out of the closet," she says. "There wasn't a struggle or an attempt to suppress. I met this woman and I fell in love with her. In terms of my sexual orientation, I don't really feel that I changed. I don't feel any different than I did before."
She continues, "I had been with men all my life and I had never met a woman I had fallen in love with before. But when I did, it didn't seem so strange. "I don't define myself. I'm just a woman in love with another woman."