NEWS
Dakota Fanning: "I Read All Four 'Twilight' Books in One Week"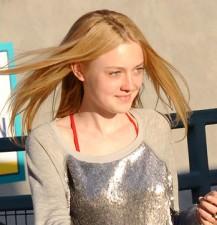 Dakota Fanning had no problem getting into character for her New Moon role. Adding to her impressive acting portfolio, Dakota plays Jane, the petite Volturi vampire who holds the power to cause her victims pain without touching them. "I wasn't in my mirror like Zoolander, doing the Blue Steel," the 15-year-old starlet dishes to Teen Vogue. "The red contacts were enough."
Joining the New Moon cast was a no-brainer for Dakota, who seems to be a bit of a Twi-hard herself.
Article continues below advertisement
"I read all four Twilight books in one week," Dakota tells Teen Vogue. "It's such a phenomenon, and I wanted to be able to say that I was a part of it."
CHECK OUT ALL OF OK!'s NEW MOON NEWS & PICS!
Another perk of joining the New Moon cast, Dakota had a chance to get to know Kristen Stewart before they began shooting the upcoming biopic, The Runaways.
"We became really close," Dakota said,"like we'd known each other for our whole lives. We talk all the time."
Their off-set friendship made things a little difficult on the New Moon set.
"I've never been such an evil character, and because I do know Kristen so well, being mean to her was really weird. It's like, Sorry, dude!"
Dakota and Kristen play punk rockers Cherie Currie (the Runaways' lead singer) and Joan Jett.
"The relationship that Joan and Cherie have in the script is kind of the one that Kristen and I have in real life," Dakota said, "minus the destructive part."
Article continues below advertisement
This is a grown-up role for the evolving child star. She hopes critics will be respectful of her role selection and transition from child-actress to an adult.
"I'm going to get older," she said. "And I want to act for the rest of my life—it's what I love—so I have to move forward with my career. The choices that I make might not always please everyone, but I have to do what I feel is appropriate and right for the time."
As far as letting out her teen aggressions, Dakota said, "I get my rebellion out through my movies. I'm boring in that way. I enjoy having a normal life."
CHECK OUT ALL OF OK!'s NEW MOON NEWS & PICS!
And that she does. Some of Dakota's favorite pastimes include watching The Rachel Zoe Project and eating sushi with friends, along with the normal boy-talk conversation.
Dakota is also a varsity cheerleader for her high school, North Hollywood's Campbell Hall Episcopal, and was named homecoming princess on last month during the big a big game against Crespi Carmelite High School in Encino, Calif. It's all a far cry from the rock and roll rebel she spent all summer playing in The Runaways, and of course nothing like the infamous Volturi Jane.