NEWS
Dakota Fanning Shines During 'Secret Life of Bees' Premiere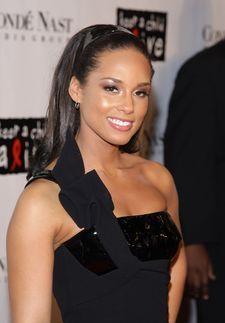 Dakota Fanning gets her first romantic kiss in The Secret Life of Bees, which premieres at Roy Thomson Hall during the Toronto International Film Festival.
Was she nervous?
"I wasn't," she admits. "We know each other really well. We're beyond nerves."
The young actress, 14, grew so close to cast members Jennifer Hudson, Alicia Keys and Queen Latifah she cried at the end of the shoot. "I have pictures of me crying at the end," Dakota says. "I really do."
Article continues below advertisement
Latifah debuts a new 'do on the red carpet. "I cut it right before I went on vacation, but I've been swimming," she says. "It was curly."
She continues, "I don't even know who I'm wearing. I literally came from vacation to here. I don't know anything. I know I've got a hot-ass pair of shoes on and a bangin' dress and my hair is styled to the nines and I'm feeling good."
Here is Alicia, who brought her plunging black dress-clad mom along for the show. How did cast bond?
She says, "We were very good about making sure we explored our stories together because especially as sisters – who our parents were, how they raised us, what was the differences between us, what were the issues we had growing up, that really brought us together so we understood more than just each other."
In fact, they became so close Queen, Jennifer and Dakota cheered her on during her Super Bowl performance.
MORE ON:
Red Carpet Confidential
Article continues below advertisement
"Yes!" she says. "First of all, Latifah was like 'oh, you get to go to the Super Bowl?' That was pretty funny. The minute it was over, they were screaming on my phone saying how great it was. It was really sweet. We are a family."
What happened with the ladies behind the scenes?
"Singing," Jennifer says. "They were like 'Jennifer, sing – sing now.' I was like 'am I a jukebox or something?' Everyday. I was like 'if I sing another song, it'll be a musical.' But it was a lot of fun. We come together and sing along. Sophie was like 'but I can't sing,' and she ended up being the one singing in the film. She was dying! It was a lot of fun."
Sophie Okonedo performed in front of these Grammy-and-Oscar winners.
"I had to sing a song in front of three of the most famous singers in America, and I can't sing a note. It was really, really embarrassing but I got through it and they gave me a round of applause."
Tristan Wilds, 19, who has gone on to 90210 fame since filming Secret Lives, gives Dakota her first kiss.
"I am Dakota's first kiss. I would get a badge and insert it on my heart. I was pretty nervous. I was like ahhh! There was a roll of breath mints by the sink. By the time we were done, it was all the way down to there."
The Secret Life of Bees is in theaters October 17.
For more tales from the Toronto International Film Festival, pick up the OK! on newsstands now. "Brit Hits Back!" is the cover line. And, check back tomorrow for more coverage of the Toronto International Film Festival.