NEWS
'Dance Moms': Were Christi Lukasiak and Kelly Hyland Ruined By Fame?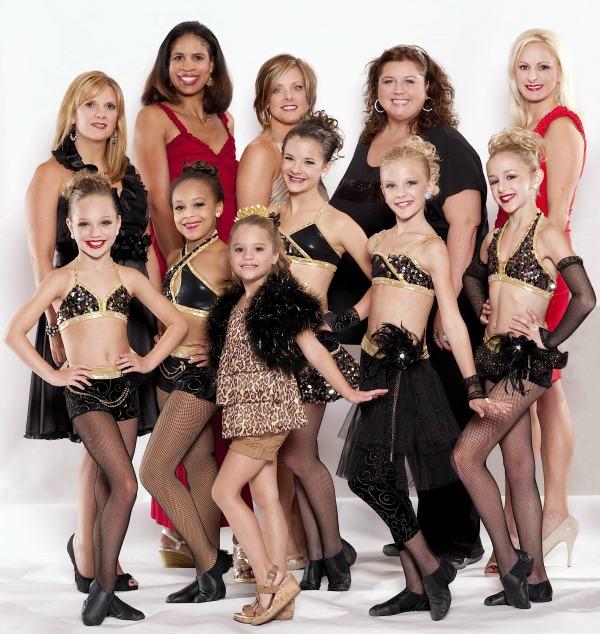 It was not fun watching my favorite duo, Christi Lukasiak and Kelly Hyland, fight and throw the F bomb at each other. I like to think I'm an adult. (That's a lie, I hate thinking I'm an adult.) But still, I've not fought with anyone like that since college. (Ah, college. Good times, despite all the F bombs.) It's upsetting enough seeing the current state of Real Housewives of Beverly Hills' Kyle Richards and Lisa Vanderpump. I can't stand for my fave Real Housewives of Pittsburgh to go down the same route, and I can't help but wonder if fame—or more specifically, the show—has a hand in things. Kelly and Christi themselves are likely not ruined by this, but their friendship could be.
Article continues below advertisement
RELATED: TOO MUCH CATHY, NOT ENOUGH CHLOE: WHY DANCE MOMS ISN'T FUN LATELY
On last night's episode, Christi claimed her feelings were hurt because Kelly didn't call her after things got crazy in the last minutes of that episode that aired last week that I will never watch again. Christi says she was Kelly's "biggest cheerleader" when it came to getting the Hyland fam back on the dance team. She said Kelly was the reason she sat out in the parking lot.
Kelly claims she did call Christi, and that the reason Christi and the other moms sat out in the parking lot during that ridiculous "strike" was not her, Brooke and Paige. She also tweeted the following: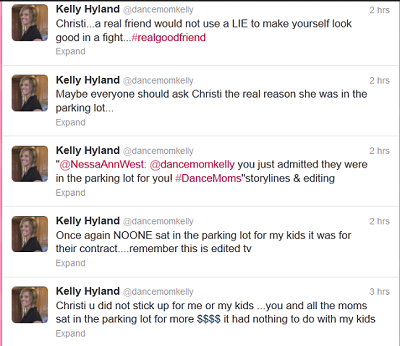 Someone is lying, and that sucks. I like both Christi and Kelly. I also feel the need to mention that I met Kelly once and she was super nice. Not that that has anything to do with this. Someone could have also been lying for the sake of filming. The thing is, that sucks, too. Meanwhile, Christi tweeted again that she was hurt, and also this: "I'm back because it IS my job to be there. I have a contract. And I walked out and the show wanted me back."
Article continues below advertisement
The fourth wall has been broken between me and Dance Moms. It's been crumbling for a long time now, and I'm not sure it can be rebuilt.
Other than the Christi/Kelly fight and Abby Lee Miller refusing to call Chloe Lukasiak by her name (WTF? Abby, it's getting harder and harder to defend you.) I almost enjoyed this episode. This was the first time we saw Abby smile for several consecutive seconds all season (really smile, not smirk) and I'm thinking specifically of her expression during Paige and Nia Frazier's routine. She gave positive feedback to everyone, not just Maddie Ziegler. And she even showed Nia R-E-S-P-E-C-T.
RELATED: DANCE MOMS: CHECK OUT OUR FAVORITE MADDIE ZIEGLER SOLO
And of course, the biggest difference: NO CATHY NESBITT-STEIN. Thank you, editors, producers, team Dance Moms, whomever! No Cathy and this episode was almost balanced. What a treat.
I asked you guys last week if you were with me in despising Cathy. Most of you are (70 percent) and the rest of you guys like the drama Cathy brings.
This week's poll question asks you to pick a side.
Article continues below advertisement
I know, I gave you an out. I'm so easy on you guys.
Quick announcement: this, sadly, will be my last Dance Moms post. I've enjoyed reading your comments and tweets each week, and I thank everyone for reading and generating interesting, intelligent discussion! I will still be watching Dance Moms (Lord knows why) and I would love it if you all kept chatting with me on Twitter, @reallylsass!
And of course, let us know how you felt about this episode at @OKMagazine!