NEWS
Dance 'til You Drop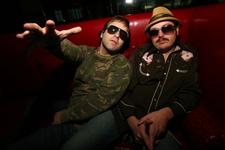 Attending lavish affairs, staying in top-notch hotels and traveling the country are just a few of the perks of being a deejay. Watching celebs groove to your beats isn't bad either!
Such is the life for DJ Graham Funke and DJ StoneRokk, who are currently touring the country to promote their mixed album CD, Trabajo. The pair, who are based in L.A., already have an impressive clientele roster. StoneRokk laughs when recalling a party he played for George Clooney, Brad Pitt and Matt Damon.
Article continues below advertisement
"This woman says to me...Mr. Pitt is really reserved and he doesn't like this music, or that music," he says. "Toward the end of the night, I see Brad standing on a couch singing, and I'm like, 'he's really not that reserved, he's whilin' out.' This is pre-children and pre-Angelina of course."
Funke recalls playing for Christina Aguilera and Jordan Bratman's baby shower, where he says, "Both of them liked early '90s hip hop."
When they're not spinning for the stars, these busy d.j.s are usually on a plane, travelling to their next gig. All the moving around can get tiring, so when it's time to chill out, Funke and StoneRokk say they like to curl up with--you guessed it--a copy of OK!
"We're pretty much in a different city every night of the week", Funke tells OK!. "We're constantly catching the early flight, trying to maximize our time in each place."
Article continues below advertisement
Make sure to catch these guys on the OK! and Reebok sponsored tour in a city near you so you too can say, DJ Graham Funke and DJ StoneRokk played for me.
UPCOMING DATES:
Mar 15th - The Hotel / Elevate, Salt Lake City, UT
Mar 22nd - Envy @ The Ivy, San Diego, CA
Mar 29th - Ultra 88 @ Mohegan Sun, Uncasville, CT
Mar 30th - Sanafir, Vancouver, Canada
Mar 31st - Brandis Show Lounge, Vancouver, Canada
April 1st - Liquid Zoo, Kelowna, British Columbia, Canada
April 5th - Slide, San Francisco, CA
April 12th - Passions, Hard Rock Hotel, Hollywood, FL
April 19th - Privilege, Pittsburgh, PA
April 21st - C Lounge, Toronto, Canada
June 7th - Vex, Lake Tahoe, NV
PAST DATES:
Jan 25th - Mandarin Lounge, St Louis, MO
Jan 26 - Felt, Boston, MA
Feb 4th - Aura, Pleasanton, CA
Feb 5th - Moon Bar, Palms Hotel and Casino, Las Vegas, NV
Feb 6th - Gruv Austin, TX
Feb 7th - Manor, Chicago, IL
Feb 9th - Hollywood & Highland, Hollywood CA
Feb 15th - Rokbar, Oklahoma City, OK
Feb 16th - Allcitylive, Reno, NV
Feb 20th - Seaz & Zouk, Houston, TX
Feb 22nd - Mokai, Miami, FL
Feb 23rd - Glo, Seattle, WA
Feb 27th - Marquee, New York City, NY
Feb 28th - Blonde, Kansas City, MO
Mar 1st - Hano Hano Room, Honolulu, HI
Mar 8th - Suite, Dallas, TX