NEWS
'Dancing With the Stars: All Stars' Recap: A Bummed Out Bristol Palin Walks Out!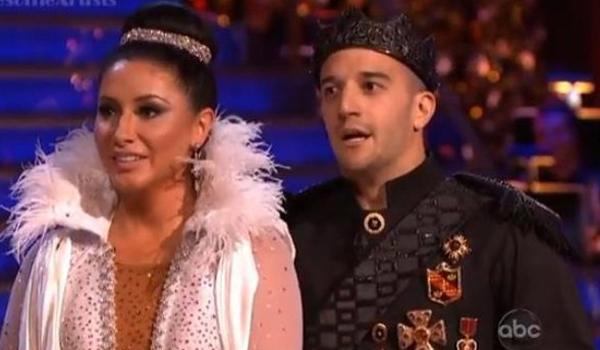 The all stars were responsible for every little detail this week – and that included living statues, livestock, a king size bed and plenty more. But before we get to the performances, DWTS dropped two bombshells on viewers at home. Next week, the all stars will be choosing styles for each other! Hopefully, no one's been revealing which dance they just can't do… And the next bit of news – Paula Abdul is stopping by to guest judge next week. How does she manage to show up on every competition show? The world may never know. Now, onto those Iconic Dances!
Article continues below advertisement
OK! GALLERY: DEREK HOUGH AND DANCING WITH THE STARS CREW HIT UP AFTER PARTY FOLLOWING SEASON PREMIERE
Drew Lachey & Anna Trebunskaya
Song: "Crazy In Love" by Beyoncé
The punk rock couple lives to dance another day and this week they've chosen to revamp the first dance of the first season of DWTS, Joey McIntyre's cha-cha. Drew told Anna he wanted to perform the entire number like a concert and urged her to, "unleash your inner stripper." And he wasn't kidding! Spinning the skirt right off his partner, Drew let his inner boy band flag fly. Judge Len Goodman thought while the cha-cha isn't an easy dance to do, they had perfect balance and he liked the concept and the content. Bruno Tonioli said, "It worked for Channing Tatum, it's work for you." Carrie Ann Inaba thought the creativity the couple brought to the dance floor was terrific and everyone was glad to see this new sexy side he brought out of Anna.
Score: 8, 8, 8 = 24 out of 30
Gilles Marini & Peta Mergatroyd
Song: "Sweet Dreams" by The Eurythmics
Gilles really didn't want to take on a dance from some one competing this season so he chose Erin Andrews' tango from Season 10. "I'm not saying we're going to get a ten, but I'm going to fight to get one," he confided. Gilles descended from the air, thanks to his trusty harness, to find a lingerie-clad Peta, who smacks the actor 'awake' from his dream state. The drama, the passion – it was all there. Bruno thought it was strong and dominant, but the all star lost his footing a couple of times. "What a shame," he said, "but the performance was great." Carrie Ann quipped, "If Peter Pan looked that good growing up, I would've listened a little more to that fairy tale." Len believed their hold could have been tighter and Gilles' footwork cleaner, but over all the judges enjoyed the performance.
Article continues below advertisement
Score: 8.5, 8.5, 8.5 = 25.5 out of 30
Melissa Rycroft & Tony Dovolani
Song: "Conga" by Gloria Estefan
Choosing J.R. Matinez's Samba from Season 13, Melissa was very clear with her partner that she wanted to wow the audience. She wanted them to wonder, "How did they do that?!" After all, she said, "How can you not be scared of the double elimination?" During rehearsals, Melissa's bag of tricks got her beat up, but the performance was another story. The superstar Samba was well received by the three judges. Carrie Ann could detect a little fear in Melissa's performance, but "everything else was stellar." Len compared it to a can of cola – it was fizzy, refreshing and satisfying. All in all, it was a knockout! Bruno cried out to the reality star, "Shake me, take me, anyway you want to."
Score: 9, 9, 9 = 27 out of 30
Apolo Anton Ohno & Karina Smirnoff
Song: "Fever"
Apolo decideD to take on Gilles' foxtrot, but "without taking my shirt off or showing my man boobs." Does anyone really believe he has man boobs? We didn't think so. With living statues that come to life, Apolo plucked Karina from her pedestal. Len thought the dance had fluidity, but he would've preferred cleaner placement when it came to their feet. Bruno said, "It was sensual, classy and classic!" Carrie Ann reassured the couple, "This is going to be one of the memorable dances we'll never forget."
Article continues below advertisement
Score: 9, 8, 8.5 = 25.5 out of 30
Kelly Monaco & Valentin Chmerkovskiy
Song: "Espana Cani" by Erich Kunzel
The General Hospital star told her partner that she chose Maks and Laila Ali's Paso Doble from Season 4, "because I think you can do better than your brother." And to prove she wasn't kidding, Kelly schedules some extra hours for rehearsal. "There's a new matador in town and your time's up!" Val declared. Bruno believed it to be a defining performance for Kelly and Val. "We saw the dancer and actress with your beauty, artistry, power," Bruno said. "I'm tingling with pleasure!" Carrie Ann called them the new couple to watch this week after smacking the Paso Doble's booty. Her words, not mine. Len couldn't believe it. "Kelly, where have you been?" he asked. It was indeed an all star performance.
Score: 9, 9, 9 = 27 out of 30
Kirstie Alley & Maksim Chmerkovskiy
Song: "Moves Like Jagger"
Kirstie had no problem taking creative control this week! She chose Carson Kressley's cha-cha from Season 13 and had quite the vision to go with it. "I want to see entertainment! I want to be in a crowd of groupies!" Her outfit was all about the boobs and Maks' was just as revealing. "Very low-cut, very tight – the most amazing tight – basically you're wearing leggings," she told him, but, "your junk is not going to be out!" Maks drove a Union Jack decorated Mini Cooper onto the dance floor and was greeted by a crowd of screaming girls, one of them Kirstie. Carrie Ann said it was the most fun she'd had all night and Len announced that he wanted the all stars, "to be in charge of the choreography ever week!" Bruno said Kirstie was loaded with charm and that he nearly burst a gut – or was that because of Maks' new hairdo?
Article continues below advertisement
Score: 8, 8, 8 = 24 out of 30
Sabrina Bryan & Louis van Amstel
Song: "Free Your Mind" by En Vogue
After Sabrina was eliminated Season 5, Melanie Brown dedicated a Paso Doble to the Cheetah Girl. And this week, Sabrina was going to take on the dance herself. Despite the extra fluff and "gimmicks" other all stars were adding to their performances, this all star wanted to focus on the dance. Len thought it was full of risks but also full of great technique. "Maximum firepower!" Bruno said. In fact, it looked like she was leading her partner and it didn't hurt that there were touches of the Scary Spice. Carrie Ann however was unimpressed. This week was all about the all stars bring the creativity and with Sabrina's performance there were no surprises.
Score: 8.5, 8.5, 8.5 = 25.5 out of 30
Emmitt Smith & Cheryl Burke
Song: Cancion Del Mariachi" by Los Lobos featuring Antonio Banderas
Emmitt decided to change things up a bit with Mario Lopez's Season 3 Paso Doble. The NFL star wants to set the mood. He wants to slide through Cheryl's legs! During rehearsals, the difficult move looks disastrous, but during the final performance "Human Torpedo Man" Emmitt nailed it. Bruno shouted, "The raging bull is back!" Carrie Ann said once the all star got started with his cape work, looking them in the eyes, she knew he was back. Len was a bit scared of Emmit's attack at the table, which was a good thing, but thought he needed more finesse here and there with the dance moves.
Article continues below advertisement
Score: 8.5, 8, 8.5 = 25 out of 30
Helio Castroneves & Chelsie Hightower
Song: "Mr. Pinstripe Suit" by Big Bad Voodoo Daddy
Who better to wish you well than the all star whose Iconic Dance you'll be tackling? Apolo stopped by Helio and Chelsie's rehearsal to wish them well on his Season 11 Quickstep. But perhaps he shouldn't have… because the judges loved Helio's performance! Carrie Ann growled because it was so good and declared him the Quickstep king. Of course, she had to bring up the fact the he did get caught on Chelsie's dress during the performance and the dance went downhill form there. Len thought the duo deserved to be back next week it was so good and while Bruno agreed, after the slip-up Helio lost his timing.
Score: 8.5, 8.5, 8.5 = 25.5 out of 30
Bristol Palin & Mark Ballas
Song: "Living on Video" by Trans-X
Last week Kirstie was able to overcome her age, but this week Bristol started acting hers. "I know you're bummed that you don't have Sabrina or Shawn," she said to Mark during rehearsals. "Why would you say that?" he asked. "What have I done to make you feel that way?" Apparently, Mark didn't show up for their scheduled rehearsal the other day and his absence really shook the all star. The dance pro warned Bristol that while he can give her the choreography and the training, if she can't apply herself on the dance floor… he couldn't force it out of her. The teary-eyed all star grabbed her bag and left rehearsal, but what would it mean for the duo's final performance of Joanna Krupa's Paso Doble from Season 9?
Article continues below advertisement
Dressed as a futuristic king and queen, Mark and Bristol took their dance onto the chessboard. Len agreed with their pre-dance argument, revealing he often fights with his partner before the Paso Doble too. "Easily your best dance," he said. "Checkmate, Bristol" Bruno shouted. He thought she looked great and her lines have gotten better. Carrie Ann said the all star is proving herself as a competitor, but her one-dimensional expressions needed a bit more work.
Score: 7.5, 7.5, 7.5 = 22.5 out of 30
Shawn Johnson & Derek Hough
Song: "Hey Pachuco" from The Mask
Stealing his little sister's dance from Season 5, Shawn and Derek chose Julianne Hough and Helio's Quickstep. To start with double flips and end with a crash mat, this dance was full of risk-taking – physically! The couple received a standing ovation from the entire audience and two out of three judges. Bruno branded them The Incredibles. He said that it was one of the best dances he's seen in 15 seasons. Carrie Ann chided, "You broke the rules, but I'll never forget this." They gave her happy feet! Len said it was amazing and that Shawn's ability to interpret the music into movement was amazing. The bad news? Last week they dropped a point to Bristol and the rules are the rules. They would have to do the same for them. While Derek tried to reason with the judge, Len explained, "I've never enjoyed a routine more."