NEWS
'Dancing With the Stars' Contestants David Arquette & Ricki Lake Talk "Intense Pressure"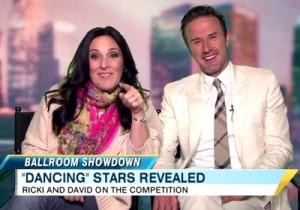 Ricki Lake and David Arquette are both out for blood on Season 13 of Dancing With the Stars. The contestants opened up about their hopes to win and all the pressure surrounding the reality dance competition today on Good Morning America!
Ricki — who famously showed off some moves in Hairspray — said last season's contestant Kirstie Alley inspired her to join the show.
"Watching her physical transformation and seeing something internally happening to her, was really inspiring," Ricki said on GMA this morning.
Article continues below advertisement
She also said that David may be the one to beat, but she is going to put up a good fight!
"Something tells me David is going to be really comfortable on the dance floor, but I'm not going to be. This is a huge challenge, this is a huge undertaking," Ricki shared. "We'll see I'm going to give it my best shot. Hopefully I will make my partner proud."
David said the process has already been a lot of "pressure."
Does he have a favorite dance?
"It's all an unknown language to me," he said. "I've always wanted to learn how to Waltz and I'm learning the Viennese Waltz. I've always wanted to dance at a ball."
Ricki said she is most concerned about criticism from judge Len Goodman.
"The older gentleman he scares me," she revealed, adding, "He scares me because he is so hard core. I'm really going to focus on doing the steps and taking in what my partner is teaching me."
Watch their interview, via ABC, below. Do you think Ricki or David could be frontrunners? Sound off in the comments.