NEWS
Dancing with the Stars' Kym Johnson Blogs for OK!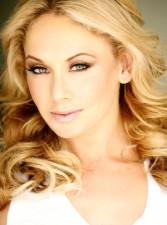 Heading into her seventh season on Dancing with the Stars here in the US — plus three seasons in her native Australia — there are few people as qualified to give you a behind-the-scenes look at the ABC hit. So Kym Johnson has teamed up with OK! to update you every week on the triumphs and travails as she attempts to turn Donny Osmond into a ballroom champion!.
Hi, everyone! Welcome to my Dancing with the Stars blog for OKmagazine.com! In the coming weeks, I will be sharing all my season nine experiences with you, from the first rehearsals to the competition itself, which begins on ABC on Sept. 21.
Article continues below advertisement
As you all know, I have Donny Osmond as my partner this season and when I found out, I had him I was so excited. I'm a fan of his; I think he's so great and he's such a nice person. It's going to be really, really fun season for me. We've had a few rehearsals so far in Utah and it's going really well.
Donny has been in the industry since he was five years old, so he's going to bring so much to this competition and he wants to work really hard. With ballroom dancing — it's very different from any other form of dancing — so he's got to muster technique and work on his posture. He wants to bring out the technical side of ballroom, but he also wants to do a good job of entertaining the audience, which is what I want to do as well.
I think you'll definitely be surprised every week with Donny and me. We just want the audience to be wondering what we're going to do next!
Donny and I have so much fun together. He makes me laugh. The first day, I met his five sons and his wife, who all came to support him in rehearsal. It's going to be a big family affair and I'm sure they're going to be there every week.
Donny's sister Marie Osmond has given him the advice to be prepared to work really hard. He has his stage show with Marie in Vegas as well so he's incredibly busy doing that and rehearsing for DWTS. He's in really good shape, slim and toned. And he's got the right attitude, dedicated to working hard and putting on a show.
From my experience, looking at Donny, he definitely has the potential to be in the finals and win DWTS. But we haven't seen our competition yet, and we'll just have to wait and see what happens on that first show. I've finished second on the show twice — with Joey Fatone and Warren Sapp. Third time's the lucky one, maybe?! This time I might get that mirror ball trophy!