NEWS
'Dancing With the Stars' Recap: Two's Company, Three's A Crowd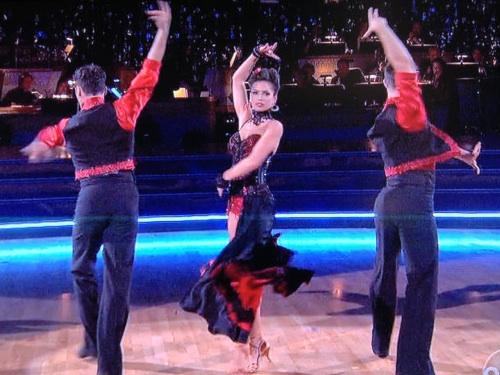 Article continues below advertisement
Shawn Johnson & Derek Hough
Song: "Angel" by Sarah McLachlan
Despite Derek's neck injury, the dance must go on! The pair dedicated their Viennese Watlz to soldiers in war zones – Derek playing the part of man in combat with Shawn as his guardian angel. It was a very quick dance – almost too quick! Did they have what it took to score another perfect 30?
Len Goodman believes that sometimes a whisper is louder than a shout. While there were some things that could have been better, it was poignant, gentle and fabulous. Bruno Tonioli called it "heavenly perfection" and Carrie Ann Inaba told Shawn she gave everyone the chills. "You've turned into a beautiful, rich, in-depth performer."
Score: 10, 9.5, 10 = 29.5 out of 30
This week's episode also featured trios and Shawn and Derek chose Mark Ballas to add to the mix. Shawn's partner doesn't want to play it safe – and he's determined. Their trio stepped out on the dance floor to perform a tribal Samba to "Jungle Jazz".
Poor Len had to put them in their place despite the audience's boos. "It was very self-indulgent because there was very little Samba content," he said. "If you go home tomorrow, don't blame me, blame those two!" Bruno and Carrie Ann didn't quite agree. She explained, "Sometimes you have to take a risk," and that the Samba moves that were used were perfection. Bruno called it "absolutely fantastic."
Article continues below advertisement
Score: 10, 7, 9 = 26 out of 30 with a combined total of 93.5.
Apolo Anton Ohno & Karina Smirnoff
Song: "Holding Out For a Hero" by Bonnie Tyler
Bonnie Tyler might be holding out for a hero, but Apolo is holding out for triple 10's. So what does one add to their dance routine? A ziplining entrance! That move might not scream Tango, but Apolo proved quite the action star to Karina's exquisite beauty.
"It was like Tom Cruise in Mission Impossible," Bruno cried. "Those guns are fully loaded for maximum fire power!" Carrie Ann agreed calling the routine "an action-adventure film I wanna see." Len perhaps put it best when he called Apolo his hero. Awww…
Score: 10, 9.5, 10 = 29.5 out of 30
For the trio round, Sasha Farber joined the pair for a little "Grease Lightning". Apolo gets a bit nervous having to dance alongside a pro, but there's no cause for concern. Apolo was dancing with a pro – and he sure looked like one. Karina's red-hot suit stole the spotlight for this Jive.
Bruno thought Apolo "conquered the dance brilliantly despite the risk taking. "You really are at the top of the game!" Carrie Ann enjoyed it as well, telling Apolo is was "your most vibrant performance." Len raved, "it was fast, sharp, tight and together…and that's what you want in a Jive!"
Article continues below advertisement
Score: 9.5, 9.5, 10 = 29 out of 30 with a combined total of 91.5
Kirstie Alley & Maksim Chmerkovskiy
Song: "Hallelujah" by Leonard Cohen
If there were DWTS superlatives, Maks thinks Kirstie would win Most Improved – dubbing the duo the Little Engine That Could. The emotional dance tipped its hat to the military – the theme this week. Did their Viennese Waltz impress the judges or are the two just out of gas?
Carrie Ann called it one of Kirstie's best dances on the show, but would like the actress challenged a bit more next week. Len went as far as to call it their "very best dance!" Bruno loved how stylish it was – well done!
Score: 9, 9, 9 = 27 out of 30
Kirstie might complain that men are sucking the life out of her, but to get to dance with Maks and Tristan MacManus… swoon! She puts it best: "You two are similar height, and your'e both hot. F*** the dancing." They're her dark angels in the trio round's Paso Doble to Evanescence's "Bring Me to Life".
Article continues below advertisement
Carrie Ann thanked the actress for her taste in men - shouldn't we all! "I love the theme, I love the costumes, I love the presentation, but it was a little sloppy." Perhaps it was the fact that Kirstie danced barefoot? Len thought there was aggression and attitude, but lacked finesse. Bruno agreed. "It could have been a little more refined," he said.
Score: 8, 8, 8 = 24 out of 30 with a combined total of 79
Kelly Monaco & Valentin Chmerkovskiy
Song: "I'll Be" by Edwin McCain
During rehearsals, Kelly lets her anxiety over tonight's double elimination get the best of her. "Can I f***ing get a smile, babe?" he asks. Something tells me the duos are-they-aren't-they romance will keep them around. I mean, we need answers! The smoke machine added a nice touch to the Viennese Waltz, but was Kelly right to be worried?
Article continues below advertisement
Len called it a little sharp on occasions, but not before Carrie Ann could jump down his throat. Len fired back with, "I have my standards. She has none." Ouch! Bruno was quick to add that it was very clear that Kelly was giving all of her soul.
Score: 9.5, 9, 9.5 = 28 out of 30
Who's the best? Louis van Amstel, says Kelly! Opening the number with a sweet kiss to the newest addition, the three danced the Jive to "Animal" by Neon Trees. Once again, we've found another female celebrity who knows exactly how the viewers want to see her partner – shirtless, and with suspenders? Just go with it.
"It had the F-factor," Len proclaimed. "It was fun, it was fast, it was flamboyant and it was fabulous!" He even got a kiss at the end of the dance. Bruno went right for the sexual innuendo – Kelly can take them both at the same time….and she's always on top! "I loved it," Carrie Ann said.
Score: 9.5, 9.5, 9.5, = 28.5 out of 30 with a combined total of 92.5
Gilles Marini & Peta Murgatroyd
Song: "Danger Zone" from Top Gun
Article continues below advertisement
All they need is a perfect score, or so Gilles believes. How hard could it be to dance in a flight suit? Gilles and Peta made it look easy! The crazy good footwork proved this couple has what it takes to up the ante.
Bruno called it Top Gun, but Carrie Ann insisted, "It was so close. It was almost Top Gun." Len said, "It was upcakes and ice cream – it was thunder and lightning!" Now, "that was a Quickstep!"
Score: 9.5, 10, 10 = 29.5 out of 30
Welcome back, Chelsie Hightower, as she joined Gilles and Peta for a sexy Salsa. Could there be a better dance for the TV star? They danced to "Rebellion" by Joe Arroyo and everything about this performance just felt right. Body rolls? Check. Girls vying for Gilles' attention? Check. A perfect score?
Almost! Bruno pointed out how a ménage a trois seemed to come naturally to Gilles despite lost timing along the way. "I loved how you came out and took control of the dance floor," Carrie Ann said. Len complimented Gilles on going out there and doing it! There was no hiding tonight – his dance moves were on display.
Article continues below advertisement
Score: 9.5, 10, 9.5 = 29 out of 30 with a combined total of 92
Emmitt Smith & Cheryl Burke
Song: "Love Letters" by Ketty Lester
Hopefully, this will be the last Viennese Waltz I ever have to talk about in this lifetime. The two are dressed impeccably. Doesn't Emmitt look so gosh darn handsome in a tux? It was nice – but is that enough right before the semifinals?
Carrie Ann didn't think so. "I feel like you're still riding in a little bit of the comfort zone." Len said, "This man puts the 'ooh' in smooth." The only complaints were in regard to balance in hold and out of hold – but over all they liked it. Bruno thought it was smart and classy and didn't dare ruin the moment with any innuendos.
Score: 9, 9.5, 9.5 = 28 out of 30
Can we call Emmit "Mr. Saxobeat" from now on? Okay, good. The NFL star and partner Cheryl were joined by Kym Johnson for the trio round and they had to go up against Gille's Salsa. Luckily, when you're coming off of a Viennese Waltz, it's not that hard to put on a show. Booty shake, anybody?
"You were in the red-hot, spicy jalapeno zone," Carrie Anne shouted. Len compared it to watching two yo-yos at the same time with all that clever choreography. Was it a knockout? According to Bruno, Salsa should come naturally and that's what it looked like.
Article continues below advertisement
Score: 10, 10, 10 = 30 with a combined total of 92.5
Melissa Rycroft & Tony Dovolani
Song: "Boogie Woogie Bugle Boy" by The Andrew Sisters
Could they get more All-American? Seriously, Melissa is a beauty in blue. Their Quickstep was done in full sailor apparel and with their 100-watt smile… we were all charmed. There were so many kicks, we lost track of their feet in those bell-bottomed pants.
But the judges didn't. "It was quick. There was lots of step," Len said. "It was like watching Ann Miller and Gene Kelly," Bruno raved. "It was as good as the best America has ever produced." Carrie Ann said Melissa was on fire!
Score: 10, 10, 10 = 30 out of 30
From All-American sweetheart to dominatrix? Dancing with Tony and Henry Byalikov will do that to a girl. Dancing the Paso Doble to Adele's "Rumour Has It" was the show's closing number – and it did not disappoint. Even if Melissa had to get a little blood on her hands…
Len believed the Bachelorette danced on the same level as her pros – like a "Frisbee being passed from one to the other." Of all the celebrities competing this season, Melissa impressed him the most – cue Tony's faux fainting spell. "Your'e a fantastic dancer," Bruno said. Carrie Ann said it best – she owned that Paso.
Article continues below advertisement