NEWS
'Dancing With the Stars' Recap: Val Chmerkovskiy's Speedo Steals The Show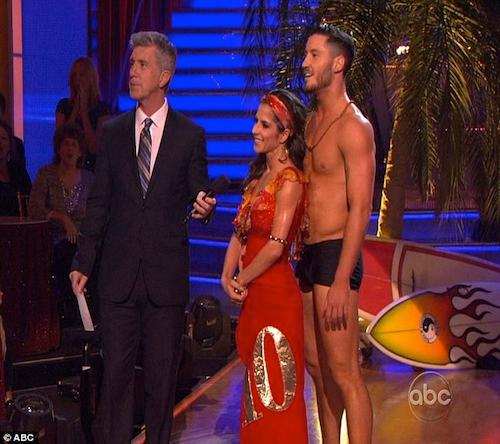 This week, the competition takes it shot at making it to the finals and winning the ever-coveted Mirrorball trophy. Hosts Tom Bergeron and Brooke Burke-Charvet keep reminding us that it's new and improved – but what could have possibly happened to it? We'll see soon enough! Along with the crazy dance mixes the Dancing With the Stars producers came up with last week, the competition will face a Michael Jackson Tribute round in celebration of the late singer's "Bad" album and its 25th anniversary.
Article continues below advertisement
OK! GALLERY: DWTS PRO MAKSUM CHMERKOVSKIY SEEN LOOKING AMAZING OUTSIDE DANCE STUDIO
Melissa Rycroft & Tony Dovolani
Song: "Walk the Dinosaur"
All Melissa and Tony wanted was to make it past week 4 – and now they're in the semifinals and determined to make it all the way to the end! But not without a few hiccups along the way… Tony suffers a back injury while they're working on their camera blocking! Luckily, doctors cleared him to dance the Caveman Hustle. Dressed in traditional caveman gear, Melissa and Tony give it their best shot. He's using her butt as a pair of bongo drums. There's chest pounding! It could have easily gotten a little silly, but what do the judges think?
"Red and Wilma have never danced so well," Len Goodman raved. "Tony had the muscle, you had the hustle."Bruno Tonioli called it the "most effective use of animal skins since Raquel Welch," despite the issues with footing.Carrie Ann Inaba called it "yabba dabba fun" despite the hustle being a bit off.
Score: 9, 9.5, 9 = 27.5 out of 30
Song: "Dirty Diana" by Michael Jackson
With Michael Jackson's mom in the crowd, Melissa and Tony kicked off the tribute round with a red-hot little number – and I'm not just talking about Melissa's outfit. There was sex appeal, passion… it's all there, and in time with the moves and the music. It's amazing how Tony and Melissa's lifts and tricks continue to look so natural week after week.
Article continues below advertisement
Bruno called out Melissa on being a "dirty nasty wicked devil of a woman." He said, "That sequence of lifts was absolutely extraordinary...You deserve to be in the final." And he's not the only one who thinks so! "I would be really disappointed if you weren't there next week," said Len. Carrie Ann joked, "Dirty Diana, I would like to introduce you to Magnificent Melissa!"
Score: 10, 10, 10 = 30 out of 30 with a combined scored of 57.5 out of 60
Shawn Johnson & Derek Hough
Song: "Mundian To Bach Ke"
"I would rather have mustard on ice cream as a combination of things," Derek said of the Knight Rider Bhangra number he and Shawn faced this week. The pro decided to bring in some help for the Indian folk dance – a very good idea. The fast moving, flailing movements had Shawn out of breath on the dance floor! Derek was dressed in a Knight Rider inspired jacket, while Shawn rocked a gold glittery little number.
Article continues below advertisement
"Another mega hit for Shawn and the hulk," Bruno shouted! "Finally, Shawn is out of breath," Carrie Ann commented. Despite last week's brutal critique, Len told the couple, "Shut up, close the door, call me Mary!" He thought the routine was dynamite!
Score: 10, 10, 10 = 30 out of 30
Song: "Bad" by Michael Jackson
During rehearsals, the pressure finally gets to Derek. "I don't know if I like any of this," he laments, but when the cameras start rolling it's clear that their time off camera did not go to waste. This Argentine Tango is definitely less about the story and more about the precision of the moves. The kicks are sharp. There are no props. The spins are fast and on point.
Bruno thought it was stylistically perfect, the two having gone for shapes, lines and style. Carrie Ann agreed, but couldn't help put point out the lack of storytelling. "It lacked a bit of drama and the intimacy." Len explained that there are two part of the dance – the movement and the style. "For me, you nailed both parts."
Score: 9, 10, 10 = 29 out of 30 with a combined total of 59
Apolo Anton Ohno & Karina Smirnoff
Article continues below advertisement
Song: "What You Waiting For"
This week, Karina and Apolo are working hard – putting in the most hours they've spent rehearsing all season – but the Olympian is still a little unsure of his steps. He's learning moves he's never done or heard of before. It's just not sticking to his brain! Out on the dance floor, there's a quick slip-up on Apolo's part and the dance never quite recovers from there. It just doesn't seem to have the same fluidity the other couples have…but there are fun house mirrors! And Apolo is dressed up as a mime without the face makeup!
Article continues below advertisement
The two of them have been through everything together: the highs, the lows, the middles. During rehearsals, Apolo talks about how he's tried to get some of his friends to do the show, but warns them – it's one of the hardest things you'll ever do. Karina wanted the Rumba to be romantic and gentle and she got it! They start off in front of a mirror, but not for long. There are no slip-ups this time and despite the song choice, Apolo reminds us of a smooth, smoooooth criminal.
"That is what I'm talking about," Carrie Ann raves. "You don't have to overdance in this competition to achieve perfection." Len compared it to the sea, saying, "There was just wave after wave of effortless motion." Bruno thought they nailed it! "That was perfectly pitched between sensuality and romance."
Score: 10, 10, 10, = 30 out of 30 with a combined total of 57
Emmitt Smith & Cheryl Burke
Song: "Secret Agent Man"
Article continues below advertisement
Last week's Salsa was definitely a highlight for this couple. Emmitt even got a call from his mom – "Now, that's the way you're supposed to dance!" But they knew combining the Lindy Hop with Espionage was going to be no small feat. Cheryl wants it to look very cartoonish, which puts Emmitt outside of his comfort zone. There's a Mirrorball bomb, 007-inspired outfits and an explosion at the end! What did the judges make of it?
"I liked the concept, I liked the energy, I liked the lifts, I liked the fun," Len said, but "I would have liked more Lindy in there." Bruno thought it was like a Looney Tunes version of James Bond. "It was the most fun performance I think I've ever seen you do." Carrie Ann agreed, calling it Emmitt's most animated performance.
Score: 9, 9, 9 = 27 out of 30
Song: "Leave Me Alone" by Michael Jackson
Behind the scenes, the pressure is getting to the two. Emmitt's trying his best and Cheryl's pushing him hard. There's a bit of a partner's spat. "I don't know what I want to do right now – I really don't," Emmitt says. His dancing needs to go up a notch… Despite the frustration, the practice definitely paid off! The Tango is a hit with the audience and the NFL star's charm has been replaced with the look of determination.
Article continues below advertisement
Len thinks these two face the biggest challenge of all the couples this week because of Emmitt's ease and elegance paired with dances that call for sharp and aggressive movements. Bruno loved it! "It was almost a criminal predatory power." His hold was a bit broad for Carrie Ann, but she complimented him on brining his A game.
Score: 9, 9, 9 = 27 out of 30 with a combined total of 54
Kelly Monaco & Valentin Chmerkovskiy
Song: "Malaguena"
Val knows the Surfer Flamenco is a bit risky, but they have no choice. They either sink or swim, but they're going to throw themselves into the water – and they did! Surrounded by surfboards and palm trees, Kelly and Val take on the sexy number. While DWTS was interrupted by an emergency alert system for me, Kelly and Val didn't stop! Kelly takes off her skirt to reveal a bathing suit and Val strips down to a Speedo. They danced in a puddle of water? I love it.
Article continues below advertisement
Bruno says what we were all thinking – Kelly was upstaged by a Speedo. While there was a lot of aggression and fire, "the Flamenco has a very, very exact placement, and it wasn't there." Carrie Ann explained, "It was all Paso; It didn't really have Flamenco." Len agreed that it could have used more Flamenco, but "the energy and the way you work was fantastic."
Score: 8, 9, 8.5 = 25.5 out of 30
Song: "I Just Can't Stop Loving You" by Michael Jackson
"We could really, really relate to this song," Val said. Let's channel our inner love for each other? "It's week nine and I still can't stop loving you, Kelly." Get a room, guys! Kelly opens up about her problems with intimacy and having been embarrassed for winning the first season of DWTS after some one called her out for not having been the best dancer. When push comes to shove, this Rumba was like watching Kelly and Val finally come out as a couple. I mean, THEY KISSED IN THE DARK WHEN THEY THOUGHT NO ONE WAS LOOKING!
Article continues below advertisement