NEWS
'Dancing with the Stars' Results: Mike Catherwood Says "I'll Never Dance Again"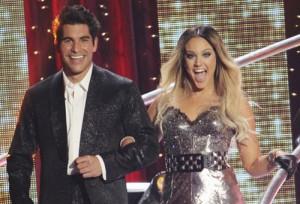 Mike Catherwood and Lacey Schwimmer were the first to be eliminated on Dancing with the Stars, but Mike's not letting it get him down. In fact, he says he's "thrilled" to be done with dancing!
OK! NEWS: KENDRA WILKINSON'S DWTS BLOG —I DON'T WANT TO GO HOME!
Mike and his DWTS partner Lacey chatted with reporters about their elimination last night.
"Naturally we're disappointed, we didn't want to be sent home first," Mike explained. "But there's an infinite amount of positive stuff that came from just being involved up to this point, and I try to focus on that."
Article continues below advertisement
"He's thrilled he doesn't have to rehearse anymore!" Lacey added.
"I'm thrilled about not having to dance anymore, and that's not to say I don't appreciate dancing, the one thing I have developed is I'll never dance again for the rest of my life, I'll just say that," Mike said. "Unless they invite me back for some comedy reason."
"But I've noticed that I now have a tremendous appreciation for the art of dance that I didn't have before," he added. "I used to, if I had to sit through professional performances I would change the channel or be playing "Angry Birds." But now I appreciate posture and movement. But you will not see me on your local dance floor anytime soon."
OK! NEWS: DANCING WITH THE STARS GIVES MIKE CATHERWOOD THE BOOT; CHRIS BROWN GETS STANDING OVATION
What's next to Mike? Will he be taking over for Regis Philbin on Regis and Kelly?
"I'd love to sit here and say, 'oh yeah my people are talking' but I don't know man, I'm going back to do Regis and Kelly as a guest now, but also as a guest host in a couple weeks, just to check back in," Mike said. "But I can't tell you any hard firm ideas of what will happen in my career after this. This sounds so cheesey and cliché, but I'm just so grateful for all of this man, because honestly if you were to talk to 20-year old Mike I wouldn't be confident that I'd have a job, let alone a job like the ones people are throwing my way. I take none of it for granted."
Still he will miss some parts of DWTS.
"All of the cast has been ridiculously cool, but I'd have to say Chris Jericho and Cheryl Burke," Mike said of who he will miss the most. "We were like besties."
"They totally had a bromance," Lacey said. "Cheryl and I are very good friends.
"And Cheryl loves me," Mike added. "So you can print that."