NEWS
'Dancing With the Stars:' Secrets of the Celebs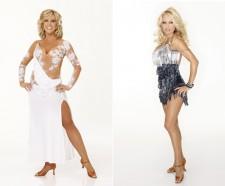 OK! sizes up the competition for Jake Pavelka and Chelsie Hightower, as the newest Dancing with the Stars rivals get ready for a showdown tonight on the ABC show's most star-studded season yet! It may be a battle of the blondes, between reality star Kate Gosselin and Playboy Playmate Pamela Anderson. Check out OK!'s guide to this season's heavy-hitters!
Article continues below advertisement
Kate Gosselin, 34: Known for being America's most famous (newly single) mom of eight thanks to TLC's hit reality show Jon and Kate Plus 8.
• Dance Partner: Tony Dovolani
• Secret Weapon: "She does have a gym in her house," Tony tells OK!. "She's very fit. She's extremely detail oriented and very driven."
OK! GALLERY: KATE GOSSELIN DANCES BACK & FORTH TO BE WITH KIDS IN PENNSYLVANIA
Pamela Anderson, 42: Known for filling out that babe-tastic Baywatch suit.
• Dance Partner: Damian Whitewood
• Secret Weapon: The Playboy Playmate is a pole-dancing pro and even performed topless in the video for Elton John's "The Red Piano."
OK! NEWS: VIDEO — PAMELA ANDERSON GETS A STICKY PRESENT FROM ELLEN DEGENERES
Evan Lysacek, 24: Known for winning Olympic gold in men's figure skating.
• Dance Partner: Anna Trebunskaya
• Secret Weapon: His slick skating moves will "translate onto the dance floor," Edyta observes.
Article continues below advertisement
Browse the Gallery for the full DWTS roster and tune in tonight at 8 p.m. for the highly anticipated two-hour season premiere on ABC.
OK! NEWS: DWTS CAST SAYS EVAN LYSACEK IS THE ONE TO WATCH!
Buzz Aldrin, 80: Known for making history when he set foot on the moon.
• Dance Partner: Ashly Costa
• Secret Weapon: Daily baths in Epsom salts and a masseuse keep Buzz limber.
VIEW THE REST OF THE STAR-STUDDED DWTS ROSTER IN THE GALLERY, AND BE SURE TO TUNE IN TONIGHT AT 8 P.M. FOR THE PREMIERE ON ABC!