NEWS
Dancing Vet Gilles Marini Schools Newcomer Louie Vito on DWTS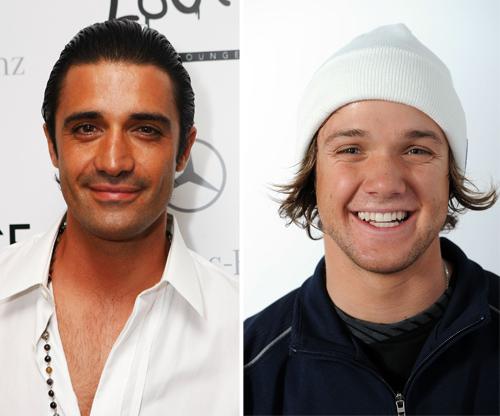 When it comes to Dancing With the Stars, Gilles Marini has been there, done that -- and now he's passing on his veteran knowledge to DWTS newcomer Louie Vito, a 21-year-old professional snowboarder, about how to avoid injuries and do well in the reality competition.
"Louie is in shape. This guy won't get hurt," Gilles told OK! at the WWE Summer Slam Party to support Betty's Battle for ALS in Hollywood on Aug. 21. "Even with dancing, snowboarding, or skateboarding, the next thing you know you overextend something and that's it. I think that the truth is to stretch good because you may think that you're good to go, but you have to stretch."
Article continues below advertisement
Nervous about his first day of rehearsals, Louie asked if he was already on the right track.
"On the first day partner Cheryl Burke and I did two hours of instruction, but Nancy O'Dell was doing eight hours so it all depends on what works for you," he explained to OK!. "But, Louie is good to go because he has an amazing partner."
That "amazing partner" is So You Think You Can Dance alum Chelsie Hightower, who specializes in the Latin dance category. In such capable hands, Louie doesn't seem too nervous about his stiff competition.
"That was an honor to get advice from Gilles right now. I feel like a little bit of an edge over everyone else now," Louie gushes to OK!. "I'm going to do my thing, learn the dance and whatever happens, happens. I'm competitive and I will try to do my best."
And as for Gilles' predictions of who will take the grand prize home, things are still up in the air.
"I think that a lot of people won't think of Mark Dacascos, but he is a martial artist and he will definitely shock," he dishes to OK!. "Everyone says that Donny Osmond will win, but he has to put his mind into it."
Can't get enough of Gilles? Keep your eyes peeled for a surprise guest appearances!
"How do you know that there will be no Cheryl and Gilles this season?" he teased OK!.
One can only hope!
By Gena Oppenheim