NEWS
Danica Patrick Says No Kids For Me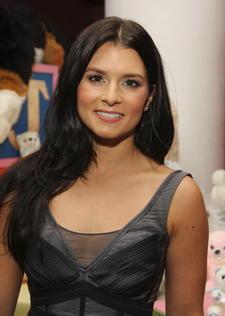 She may not have completed the Indy 500 on Sunday (a car collided into hers at pit lane), but it's still full speed ahead for Danica Patrick and nothing – not even kids – will get in her way.
"I have worked way too hard to get where I am to stop, and it does mean stop," she tells OK!. "We in racing do not get to take a year off because we're tired or we want to have children – maybe when racing is over with, but definitely not until then."
Article continues below advertisement
And even when Danica, who became the first woman to win an IndyCar race last month after she triumphed in Japan, decides to call it a day, she's still not sure if children are in the future for her and her husband, Paul Hospenthal.
"I never worried about kids," she admits. "But I always wanted to get married."
The couple tied the knot in 2005 in Scottsdale, Ariz., and the 26-year-old still looks back on her "beautiful" and "smart" wedding fondly.
"I did it on a budget. I wouldn't say I couldn't spend more, but I wanted to do it on a budget," she says. "The flowers get thrown away the next day and the room gets taken down. But we had the best party ever. We had a band called Cowboy Mouth. They were so good and they rocked the house. The guy was sweating – cutoff shirt, gym shorts and no shoes or socks. Sweating. Everybody was rocking. It was like a three-day party."
Article continues below advertisement
As for her husband, who used to work as her physical therapist, he shows his support at every race by dropping sweet cards and letters in her bag before she leaves. Having been together for nearly six years now, Danica says it's communication that's key in any relationship.
"I think you have to say what's bothering you, if something's ever bothering you, and you have to talk about it and be honest," she says. "I don't think you need to overcommunicate because then you can probably pick on everything. You need to be able to voice what really bothers you."