NEWS
Daniel Radcliffe Blames Himself Not Peer Pressure for Past Drinking Problem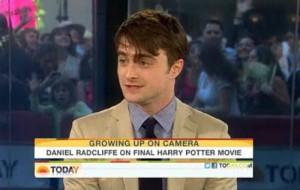 Daniel Radcliffe might be regretting his confession that he had a past problem with drinking now that he's constantly being asked about it. The Harry Potter and the Deathly Hallows - Part 2 star stopped by the Today show on Thursday and openly discussed why he had a problem with alcohol and how he is now happier being sober.
OK! GALLERY: HARRY POTTER AND THE DEATHLY HALLOWS PART 2 HITS THE BIG APPLE
Article continues below advertisement
Daniel is busy promoting the final Harry Potter film, but he's also having to explain his recent confession that he had a drinking problem.
"At the same time and not by design," Ann Curry said on Today, "It's come out in a magazine and which you've been very... and it surprised a lot of people. You said, 'At one point I became so reliant on alcohol to enjoy stuff.' Exactly when was it?"
"I'd say from the ages of 18 to 21 was when that period of my life — I stopped drinking in the later year just after I turned 21," Daniel said. "Yeah, I suppose I just — it was something that I thought to make myself interesting and to make myself enjoy, you know, my life. I did become very reliant on it and I think it's a moment when you realize that something that is ultimately destructive has crept into being a routine.
"And so I thought that was the moment when I decided that the amount I was drinking had led me to become unhappy," the actor explained. "So I stopped with the help of friends and family," he explained. "And the last year has been a lot more manageable and a lot better. I feel happier."
OK! NEWS: THE PHILMGUY REVIEWS — HARRY POTTER AND THE DEATHLY HALLOWS - PART 2
"Peer pressure?" Ann asked. "Being in the spotlight have something to do with that?"
Article continues below advertisement
"I don't know, to be honest," he said. "I don't know that it's something that would have been affected by my life or whether it's something that I would have stumbled upon anyway had I never been Harry Potter."
"But I wouldn't put it down to peer pressure at all," Daniel added. "If anything, the only pressure that was put on myself to drink and become good at it — which I never achieved, I was always very unsuccessful at it — was put on by myself."