NEWS
Daniel Radcliffe Reveals How He "Succeeds" Living in New York Post-'Harry Potter'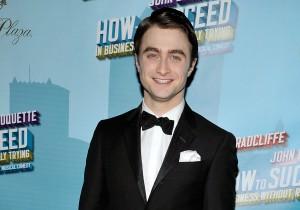 A lot has changed for Daniel Radcliffe since the first Harry Potter film thrust him into fame at the age of 11. Now, at 21 years old, Radcliffe has a girlfriend, lives in New York's West Village, is still very rich (his work on the Harry Potter series reportedly earned him more than $90 million to date), and he has a new Broadway show (no nudity this time).
OK! NEWS: EMMA WATSON SAYS FINAL HARRY POTTER FILM IS JUST PLAIN HELL-RAISING
Article continues below advertisement
Daniel is starring in the recently opened How to Succeed in Business Without Really Trying, the poster upon which Radcliffe appears to resemble a much younger Steve Carell staring off into space in the The 40 Year Old Virgin promos.
The Broadway theatre happens to be just blocks away from the Harry Potter exhibit in Times Square, but don't expect to see him there.
"My friends made a bet with me to seeing how long I could go in and stay in there without people noticing me," Radcliffe said to a curious photographer. "I think it would be crazy for me to go."
Harry Potter fans, like Lady Gaga fans, are die-hard. It's not safe. It's also why we avoided checking in on Foursquare at the Gotham magazine party at Salon de Ning in New York's Peninsula Hotel where OK! interviewed him – not that Radcliffe knew what Foursquare was anyway. But what he lacks in Silicon Valley-awareness, he's got in art-world ardor – even if the art world won't always sell him a painting (we'll explain more later).
Article continues below advertisement
OK! VIDEO: WATCH DANIEL RADCLIFFE IN THE WOMAN IN BLACK TEASER TRAILER
I read that you don't have an email address. So does that mean that Twitter and Foursquare are totally out of the question?
Foursquare? I don't even know what that is. Don't laugh at me! What is Foursquare?
You check in where you are. For instance, you'd be like, "I'm here at the Peninsula Hotel."
Oh no, that would be a terrible idea for me to do that! Are you crazy?
Okay, for you that's true. But no email?
I don't have an email because, I did have one for awhile, but I checked it so irregularly that people would be getting pissed-off at me that I wouldn't reply to their emails. It's like, no dude I just haven't read it. You know? So in an effort to stop pissing people off, I just don't have an email. I'm sure one day I will probably have to have one, but at this day, no.
Article continues below advertisement
So, how do you stay in touch with people?
Texting. I'm a big texter. I call people. Skype is a big thing for me now that I'm living over here in New York. Skype is fantastic. That's only something I've discovered this year. I'm so behind on technology, but Facebook and Twitter and all of those things I just think… I just find that I don't value my opinion that highly so I don't know why other people would, basically.
Fair enough. Living in New York full-time now, do you find that you're more of an uptown guy or a downtown guy?
Well, I live downtown so I'm probably more of a downtown guy, although I have spent quite a bit of time on the Upper West Side and it's lovely. But I love living downtown. The West Village is a very easy place for me to just walk around and not really get noticed, and I think I've only had one experience with the paparazzi since I've been here. I've been very lucky.
Article continues below advertisement
You've also said that having an English accent makes you feel cooler in New York, how does that work?
I don't know. I get so many comments at the stage door outside of his Broadway show of people saying, "I really love your accent. I really wish you'd done that accent during the show." And I was like, "I think people would be a little bit pissed off with me if I had done an English accent playing an American."
Does it help with women?
Well, I have a girlfriend, so that's not really an option for me. But yeah, I think it does get you a little bit of extra attention, certainly.
In terms of cooking at home with your lady, are you much of a chef?
Why would I cook? I'm in New York! I can either go out to eat or order in the best food in the world.
Do you have an easy go-to meal for you and your girlfriend?
Macaroni and cheese with bacon from Ditch Plains. I will gladly give that restaurant a shout out. I always go there. It's a fantastic place. If anyone's going there, you have to get the mac and cheese. It's unbelievable.
Article continues below advertisement
Another fellow franchise Brit is Robert Pattinson. Do you guys stay in touch much since the Harry Potter days where Rob played Cedric Diggory in Harry Potter and the Goblet of Fire?
No. Not at all. Me and Rob have this – Rob and I, I should say. Rob and I have this bizarre relationship where the only intercourse we have is through journalists. We kind of communicate through each other through people who have interviewed him two weeks ago and then me. I haven't spoken to Rob since I saw him at an art gallery, easily three or four years ago. But he's done amazingly well and it's always nice to see someone that you've worked with go on and do something great, so I'm very, very happy with him.
Your Broadway play is called How To Succeed In Business Without Really Trying, so how is your business sense in real life? Are you a business-savvy person when it comes to investments?
No, terrible. My mum is. My mum handles that side of things. She's very good with it. She's invested some of the money. The only sensible investment I've personally made is in art.
I definitely respect that.
And also, I don't look at it like an investment. That's kind of — that's not the way to buy art. I buy what I love. But that's the only sensible thing. Other than that, my mum looks after it and does all that. She's very clever with it all and I trust her.
Article continues below advertisement
Who are some of your favorite artists?
There's a wonderful guy I've come to know called Jim Hodges who I bought – wait, this is an awesome song! Edward Sharpe and the Magnetic Zeros. This is a fantastic song. Sorry —
No, it's great. So, Jim Hodges.
Yes, thank you. So I went to the Frieze Art Fair in London, saw this piece and was like, "Oh my god, that's amazing. I really want to buy that." And the dealer said, "Oh no, well we're actually waiting for a more prestigious collector to buy that." And I was like, "Dude, I'm offering you the money now!"
I want to pay!
Yeah. But then word got back to Jim and it turns out Jim was a huge fan of the Potter films so he was like, "Give that! You have to have that." And I've come to know Jim since. He's one of my favorite artists. One of my favorite things that I own is one of the butterfly paintings by Damien Hirst, which I love.
They have some of his work in the Gramercy Park Hotel, actually.
Oh, cool! Well, mine's only a little one. But it's lovely.
Article continues below advertisement
Lastly, a question from a Harry Potter fan who will kill me if I don't ask it. Did they ever consider having you wear green contacts?
Editor note: In the Harry Potter films his eyes remain blue, while J.K. Rowling's book describe Potter's eyes as green.
They did! Absolutely. On the first film I wore green contacts for like the first two weeks. But I'm in a very small percentile of people who react very, very badly to contacts. And I was in so much pain they had to stop. Because basically, ultimately, the woman whose job it was to put the contacts in, she had to go to the producers and say, "Look, I'm not going to make this little boy cry anymore." So yeah, we did try and they thought about doing visual affects on it. In the end they went, no one's gonna care!
In that case, pretend I never brought it up!