NEWS
Watch Daniel Radcliffe in 'The Woman in Black' Teaser Trailer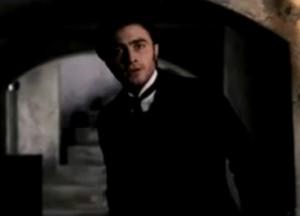 And we thought Harry Potter was scary enough! Daniel Radcliffe is starring in the upcoming scary thriller, The Woman In Black, and even the teaser trailer is scary.
OK! NEWS: DANIEL RADCLIFFE MAKES BROADWAY DEBUT
Well, at least we jumped while watching it, but partially due to the haunting music!
The Woman in Black claims to be "the most chilling ghost story of our time" and is based on the 1983 novel by Susan Hill.
Article continues below advertisement
The story is about Arthur Kipps (Daniel) who is a young lawyer sorting out a deceased client's affairs, MTV News reports. Arthur discovers that a nearby town is haunted by the ghost of a scorned woman.
"We're doing, like, five or six scenes a day, as opposed to seven set-ups, which is probably what we got on Potter," Daniel told MTV last November about working on the indie film. "So it's faster. I'm loving it. It's very, very exciting."
Watch the teaser trailer below!