NEWS
Daniel Radcliffe Talks 'Harry Potter' Fans Fainting & Awkward Katie Holmes Moment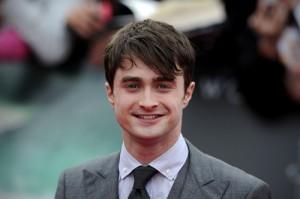 Daniel Radcliffe has wrapped up work on Harry Potter and is focusing on finishing up his run in the Broadway revival of How to Succeed in Business Without Really Trying, but one thing hasn't changed in his career — his fans' love for him! Katie Holmes, on the other hand, may not!
OK! GALLERY: SEE DANIEL RADCLIFFE HOLDS HANDS WITH HIS MYSTERY GIRLFRIEND
Daniel has officially reached the status of global superstar, always eliciting a strong reaction from fans in other countries — so strong they sometimes faint!
Article continues below advertisement
When he's not making fans faint from the sight of him, Daniel's making them uncomfortable when they see him in How to Succeed… .
In the show, Daniel's character references Tom Cruise's infamous Oprah couch-jumping. While audiences usually laugh like crazy during the scene, there was one night they were pretty silent. Katie, Tom's wife, was in the audience!
"I got very, very paranoid that night because she was in the audience, and I did it and the audience reaction wasn't nearly as much as it normally is and I was like, oh man, they all know she's here, and they're like, wow, this is really awkward!" he says with a laugh. "And it was."